Thick stalks of bamboo tower overhead. The tops sway back and forth in the breeze. Birds are chirping. The air is brisk and refreshing.
An old tractor, possibly built before the revolution, putters down the mountain pulling a trailer of freshly cut bamboo stalks. Stalks of vegetables lay on the stone walls alongside the road, drying in the sun. The yellow autumn rice fields look like gold as the sun lazily drifts behind the green mountains.
Moganshan is called "the Hamptons of China." Apparently, all the rich Shanghainese and bigshot expats now have summer homes there. There are luxury resorts if you're in to that sort of thing. I am not. My family is not. We went to a village on the other side of the mountain instead.
First we had to get lost…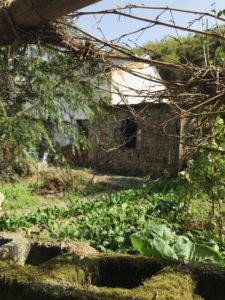 We caught a cab up the side of the mountain to a little village with houses clustered together. I'd booked a night at the Mogan Mountain Xuanxuan home. It was not a resort. Or, apparently, a very well known place at all.
The cab driver had to stop and ask a group of old village ladies for directions. They had no idea where it was. I tried calling the number listed on the website. It didn't work. I kept trying to show the driver the location and address I had pulled up on my maps, but he waved it away. The address I'd gotten from booking.com was not where the place really was. Somewhere in Moganshan, but where? Which of the many little Moganshan villages?
I was starting to panic a little bit. What if I'd reserved a place that didn't exist? What were we (me, Rachle and my parents) going to do stranded in the mountainside in rural China? Luckily, things worked out, as they usually do.
A middle aged woman in jeans and black knee high boots pulled up on a motor cycle. She spoke quickly to the cab driver, and suddenly he laughed. He ushered us back into his cab and we followed the lady up the hill to a nice looking three story house. Behind the house, a whole bunch of chickens clucked and picked at bugs amidst the bamboo.
The lady on the motorcycle was the owner.
We checked in, which was a bit of a process since she didn't speak a word of English, and my Chinese is still not very good. We figured it out, and she cooked us a delicious bowl of noodles for lunch.
That afternoon, our super hostess drove us (in a car, not on her motorcycle, unfortunately) to a little tourist area and dropped us off. (I asked her name, but she didn't want to tell me. "it's four characters" was all she said.)
The tourist village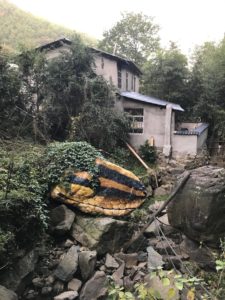 The village was cute, if a little bit kitschy. There were straw huts, with little buttons in front you could press to hear speakers playing some weird chicken clucking song. There were also straw dinosaurs. It looked like it'd be a fun place for kids.
Past the chicken songs and straw animals was the actual village. People ignored us as they walked to the terraced fields with buckets of water. Some people were making small fires in the fields. I'm not sure why.
Further on, there was another little village that crawled up the mountain alongside a little stream. Old folks squatted on their front steps smoking cigarettes and sharing drinks with one another. There were paintings everywhere, including rocks that were painted like animals.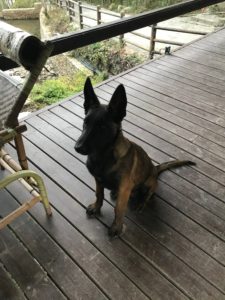 A stray puppy joined up with us, serving as our tour guide. He walked with us through the village, guiding us through the narrow streets on our quaint little glimpse back in time. I was worried he was going to follow us back, but as soon as we left the village, he gave us a little bark goodbye and went back to annoying the smoking old folks.
When we got back, we were treated to one of the chickens we'd seen running around earlier that day. It was delicious. Our hostess's grandson had his birthday party, and she shared a bit of cake with us.
Up the mountain
The next morning, we had a hearty breakfast and chatted about the different foods Chinese and American people eat. Our hostess took a video of us eating and posted it on WeChat. Captioned: "look how Americans eat breakfast!" She seemed genuinely fascinated watching us eat.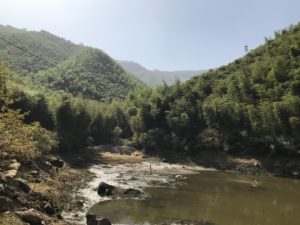 The hike was steep, but great, although maybe a little too much for my retired parents. We crossed through an old tea field, and left the bamboo for a lush mountain forest. On top of the mountain we got a gorgeous view of the surrounding area. The top seemed a little cheesy, with fancy hotels and what not. They were all old stone buildings once built by Western traders as a place to rest after a long day selling opium.
We were worried about catching the train back, and ended up skipping the attractions on top of the mountain, including the building where Chairman Mao once took a nap.
My new Moganshan Auntie
When we got back, our hostess and her husband were thoroughly impressed we made the hike both up and down. We were treated to another fantastic meal (more chicken.) Before we left, our hostess insisted on a big group photo in front of her house.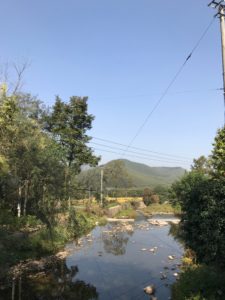 I don't think I've ever been so taken care of by a hotel proprietor. I'm so glad we didn't opt to stay at a resort, which would have been three times the cost for maybe a tenth of the experience.
All in all, Moganshan was a great taste of rural China. Maybe not the most authentic, but incredibly accessible. And just so fantastically friendly.
Pro tip: if you are coming from Shanghai, you need to catch the train to Deqing, then get a cab (or bus?) from there. There are only handful of direct trains from Shanghai to Deqing, but quite a few from Hangzhou. Go from Shanghai to Hangzhou and then Hangzhou to Deqing and you'll have a lot more options. From Deqing you can talk a cab to Moganshan for 100-150 RMB (about 20ish US dollars).
Here's the link to the place we stayed: http://www.booking.com/Share-vGNN4S
The owner doesn't speak a word of English, but she's so friendly. Be prepared to gain a new Aunt.