The beach at Da Nang is considered by some to be the best in the world. We think of many things when we envision our perfect beach. Long stretches of smooth sand between our toes. The gentle rhythm of clear blue water. Miles of skyscrapers blotting out the sun. The pounding of jackhammers. The diesel fumes of construction trucks. Overpriced seafood restaurants that look like they were plucked from a truck stop and thrown on a sidewalk overlooking the South China Sea.
Da Nang had all these things and more.
A misguided splurge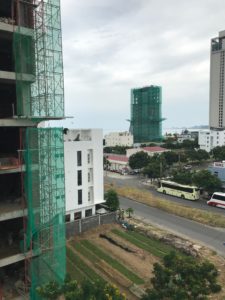 We decided to splurge for our last two nights in Vietnam, so we booked a nice-looking hotel that boasted a balcony and "beach view". The "beach view" of course, really meant "backside of a construction project" view. Also, the staff were all easily the least friendly people we'd met in Vietnam.
And the neighborhood, oh god the neighborhood. Walking around, our hotel was surrounded by the rubble of destroyed homes. Garbage piled in vacant lots, where stray dogs battled one another for scraps. The destruction was so complete it looked as if the area had never recovered from the war. Da Nang was, after all, a center of American activity in Vietnam. GIs used to have R and R right on My Khe beach.
Worst of all, there were no restaurants, and no convenience stores within a twenty-minute radius. This may not sound that bad, but imagine being hungry and tired after a long bus ride, and all you want to do is eat. At first glance there was nothing except for a few of those previously mentioned overpriced truck-stop looking seafood places.
And weasel poop coffee stores. So many weasel poop coffee stores. (Yes, it's really a thing. No, we didn't try any.)
But after some wondering and a chance discovery of a Banh Mi stand that was clearly not intended to be patronized by tourists, but rather set up for the millions of construction workers, it was time to go to the beach.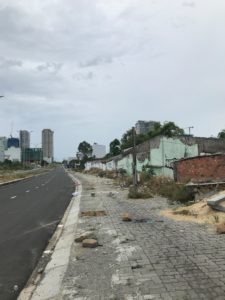 Things improve a little at the beach
My Khe beach is pretty nice, actually. Turn away from the dense luxury hotel jungle behind it, and you can maybe pretend for a moment that you're in paradise. No wonder Lyndon Johnson thought the place was worth fighting for.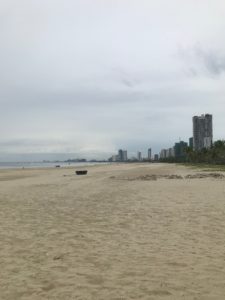 The best part about the beach in Da Nang, though, came in the late afternoon. The sun sank down behind the high rises, and the busloads of Korean tourists left the sand to descend upon the many souvenir shops. As the sun set, the locals came out in droves. Families with naked children splashing in the waves. A young couple bringing their puppy out into the water.
We hung out and enjoyed jumping into the waves with the locals, even if the sunset was blocked from view. As we left the beach, we were surrounded by a small group of kids. The youngest was probably seven or eight, the oldest maybe twelve.
The cynical Westerner in me thought "oh shit, they're going to ask for money" as they approached us and said "hello." I didn't have that much, because, well, why carry a bunch of money to the beach, right?
That cynical Westerner was once again proven wrong. These kids just wanted to practice their English. We got some textbook "where are you from?" "what is your name?" and so on. We complimented the kids on their skills and waved goodbye as they rode off on the back of their mom's moped.
But, we were hungry again. Jumping in the waves is hard work. We walked along the sidewalk, past the construction sites, past the seafood truck-stops. Of course, we still didn't have that much money. At least, not nearly enough for market price lobster.
So we kept walking. Something told me "get away from the beach" and we did, wandering for about ten minutes past ripped up asphalt, chain-link fences and hardhat signs.
A taste of old Da Nang
We eventually wandered into a little residential area, with single story houses laid out in a windy maze of narrow streets. This was the kind of cute little local neighborhood that had been bombed out by gentrification nearby our hotel. I'd seen the rubble from houses just like the ones here earlier that day.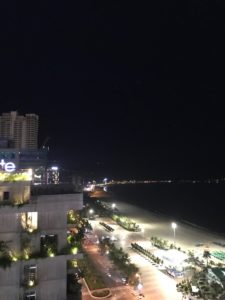 A middle-aged lady was selling some kind of noodles from her front yard. We sat down on little plastic stools and ordered a couple of bowls. We payed far less than we should have for how good it was. I wish I knew what they were, but her English was about as good as my Vietnamese, so I couldn't have asked anyway.
A group of very young children chased each other around in the road. Old men with missing teeth sat around laughing and drinking. The middle-aged lady gave us some tea.
Overall, it was a probably more authentic travel experience than anything else we'd had in Vietnam. Just hanging out with the locals, eating noodles under a streetlight. I never would have expected that kind of experience under the shadow of Da Nang's new luxury hotels.
Unfortunately, that little neighborhood will probably go under the wrecking ball soon. That lady, those old men, those kids, will all have to find somewhere else to stay to make room for package tourists and wayward couples. Da Nang is changing fast. Shit, that area might be gone already.
I'm glad I got to share a brief moment with them at least. And I'm glad I got the chance to get a second first impression of Da Nang. I probably won't be rushing to go back, but I'm glad I went.