The Oriental Pearl Tower is arguably the most iconic representation of Shanghai's skyline. It may be the most iconic representation of modern China. Huge reddish-purple spheres held up by three massive cement columns tower over the Pudong River. The tip of the tower reaches up into the sky like it's trying to reach the future.
Cyberpunk Architecture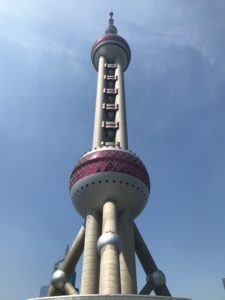 The Oriental Pearl Tower has been one of my favorite modern Shanghai buildings for a while. It's an excellent example of what I call "cyberpunk architecture". Looking at it, you don't necessarily feel like you're looking into the future. You feel like you're looking into what someone in the 1970s thought it would be like to be looking into the future in the 1990s.
Maybe it sounds like I'm trying to disparage it. I'm not. I genuinely love that retro-futurist aesthetic. I love looking up at those giant spheres and almost hearing the chorus of Moog synthesizers shining down from the heavens.
Going up the Oriental Pearl Tower
The tower was built in 1994. It's 468 meters (1,536 feet) and for a long time was the tallest building in China. It was built for radio and TV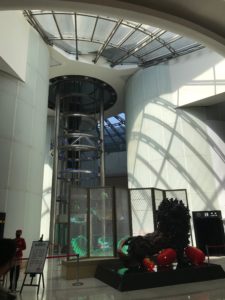 broadcasting. That's not important.
What's important is that you can also go inside and ride an incredibly fast elevator to the three-hundred-sixty-degree observation deck. Some days the wait can be up to four hours to get to the top. It's an AAAAA grade tourist attraction after all.
Now, though, the coronavirus outbreak has started to wind down, tourist attractions are starting to reopen. However, tourists have yet to start flooding back into the city. It's the perfect time to be a tourist in Shanghai.
Our trip up the Oriental Pearl Tower started with the typical temperature screening that's so prevalent these days. Then we got (discounted) tickets and went through security into the building. We were greeted by a maze of metal gates leading to the ticket check. You might think I'm exaggerating, but no. It was a literal maze.
After finding our way to the elevator, we were greeted by a worker dressed like a futuristic flight attendant. She gave us the introductory spiel in Chinese and English as the elevator darted up to the observation deck. My ears popped.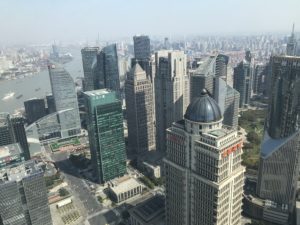 This city goes on forever.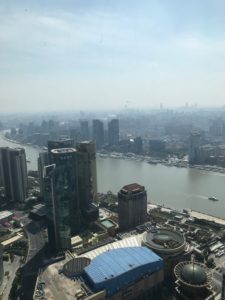 On the Oriental Pearl Tower observation deck, you really get a sense of how fucking massive Shanghai is. I almost feel like the term "mega-city" doesn't quite cut it. There's nothing but buildings and buildings and more buildings disappearing into the haze of the horizon.
It's a reminder of how insignificant we all are.
There are also more helpful reminders of other things, such as little signs that point out significant buildings you can see, and give a little history of the building as well as some construction facts, in English, Chinese and Japanese. It's a great place to get a bird's eye view of the Bund and all its historic buildings.
Below the main observation deck, there's a circular outside area with a transparent floor. Do not go to this part if you're afraid of heights. It was a little dizzying, and a little terrifying to look down and see nothing but the ground hundreds of meters below. But, also, lots of fun.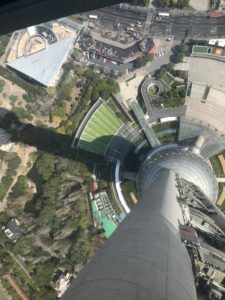 Below the Oriental Pearl Tower
As you exit, you'll go through a weird video display of the "future" which wasn't really worth watching. On the bottom floor of the tower, is an interesting Shanghai history museum, with wax figures and photographs depicting life in the city throughout the years.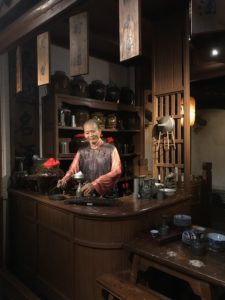 In the basement there are shops. Lots of shops. If, for some reason, you need a whole bunch of Oriental Pearl Tower shaped keychains, this is the place you want to be. Otherwise, meh.
Honestly, the inside doesn't really have the retro-futurist cyberpunk appeal of the outside. The observation deck is totally worth it, but aside from the history museum, the inside is filled with your standard tourist trap nonsense, and really just looks like a round shopping mall.
Despite that, I'd still say the Oriental Pearl Tower is a must-visit if you come to Shanghai. Get off at Lujiazui station on line two and you really can't miss it. Maybe it's not worth a four-hour wait, but it's for sure worth a two-hour wait. Go to the top and marvel at all the buildings, and wonder what people in the 1970s would think about how we're living life today in the future.