Guyi Garden is a lovely classical garden just an hour north of downtown Shanghai. It's not as famous as some of the other nearby gardens, but that makes it feel all the more special. Avoid the crowds and relax in Guyi's classical splendor.
One of the best things about China is its classical gardens. Stone paths meander around groves of bamboo. Strangely shaped rocks reach up to the sky like miniature mountains. Colorful fish swim ponds. Trees and flowers blossom in various colors. The entire garden fits together like a painting you can walk around in.
Gorgeous, but Crowded
Shanghai is known more for its modern skyscrapers than its historical attractions, but the city and the surrounding area still has its fair share of gardens. You probably read about Yu Yuan in the Lonely Planet guidebook. Yu Yuan is great, but its right downtown and its almost always crowded. And the area around it is an awful tourist trap.
Nearby Suzhou is famous for its gardens. And yes, they're nice. But the gardens of Suzhou can be even more crowded than Yu Yuan.
It's very difficult to fully appreciate the beauty of classical Chinese gardens when a tour group's shoving past you and a group of aunties are trying discretely take selfies with you in the background.
Luckily, Guyi Garden is there to save the day. Waiting for you to visit, in the suburban village of Nanxiang, just about an hour's ride on metro line 11. And it's only 12 RMB to enter.
Ming Dynasty Splendor
Guyi Garden was first built all the way back in 1520-something, during the Ming Dynasty. It's been updated and renovated throughout the years, but still retains the feel of Old China. That is, after you get past the cheesy New Years' decorations.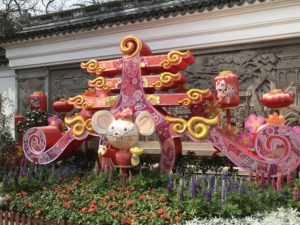 But, once you're inside the garden proper, Guyi ticks all the right boxes.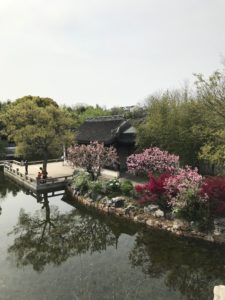 There are groves of bamboo, several large ponds, rock formations, gazebos on hills, numerous flowers and even a bonsai garden.
And, at least when we went, it was quiet enough to sit and really enjoy the peacefulness of the place. You can spend your time doing nothing but staring at the plants and listening to the birds chirping.
And Delicious Steamed Buns
Just outside of the garden, there's Nanxiang which is also worth a little stroll. The ancient street in Nanxiang is pretty much the same as every other Chinese ancient street, but still nice enough. There's also a temple and another garden that were both closed when we went due to the coronavirus.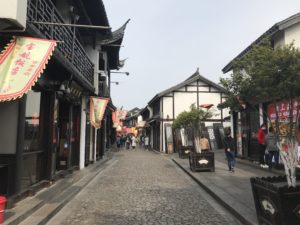 Most importantly, Nanxiang is home to the famous xiaolongbao. Xiaolongbao is a must-try dish in Shanghai, delicious steamed buns filled with pork and soup. There are a million places to get them, but the ones in a little corner shop in Nanxiang were the best I've had.
A gorgeous walk through a beautiful Ming Dynasty Chinese garden followed by some delicious xiaolongbao. It's a classical Chinese experience if there ever was one.
The pictures don't do it justice.