Khao Sok National Park in southern Thailand might be one of the most beautiful places I've ever been to. Imagine waking up in a floating bungalow and looking out over a mist-covered jungle lake. The otherworldly howls of the gibbons echo off rugged limestone cliffs that tower over the water. You breathe in a primordial connection with nature. But then it's time to scarf down breakfast and pack because the tour boat you came in on is leaving and you don't want to miss your connecting bus.
The Animals and Communists of Khao Sok
Khao Sok National Park is in Thailand's Surat Thani province, somewhere in between the tourist hotspots of Phuket, Krabi and Kho Samui. It contains the largest area of virgin rainforest in Thailand, and is a remnant of a forest that's older and more diverse than the Amazon.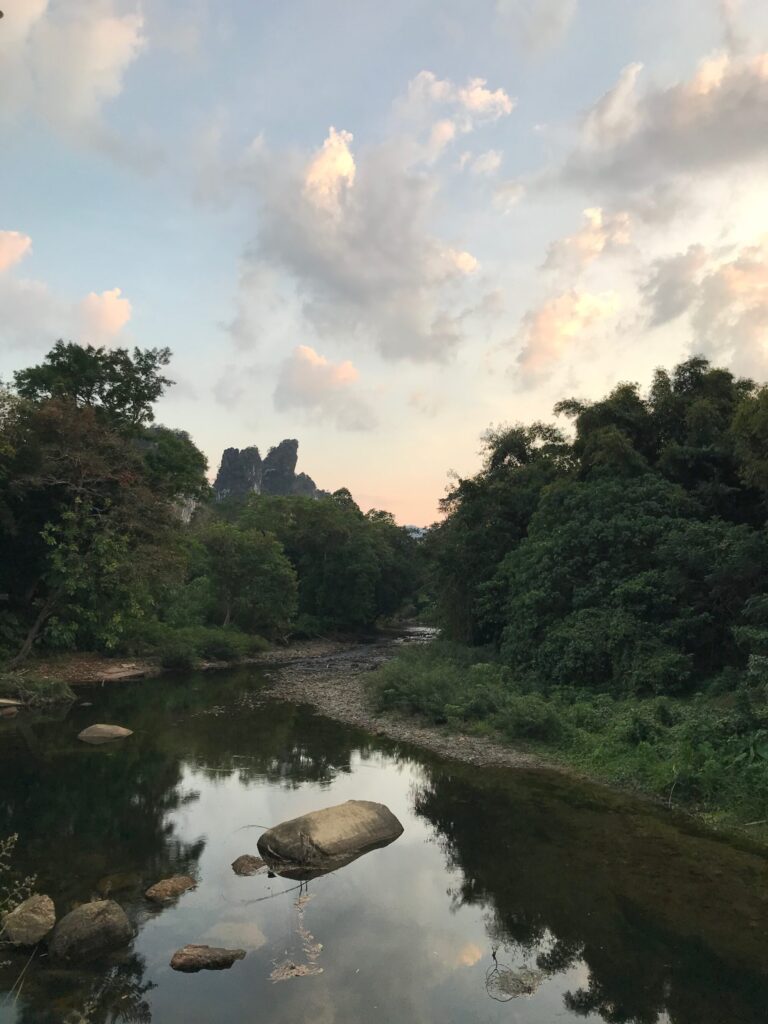 The park contains an estimated five percent of the world's species. There are exciting and exotic animals such as elephants, tapirs, gibbons and even a population of tigers. Chances are, you aren't going to see any of these, but it's still cool to know they're there.
If you aren't listening carefully, you might think that Khao Sok once had a population of gorillas. That isn't true. It was actually guerillas. The park was home to a communist guerilla movement in the 1970s. The insurgency protected the area from poachers, loggers, and miners for seven years. When the government finally took over the land in 1980, they declared it a national park.
Two years later, they dammed the Klong Saeng River, and creating Cheow Lan Lake. The lake's beautiful, but you know, it did drown 64 square miles of virgin rainforest.
What is There to Do in Khao Sok National Park?
Today, the guerilla armies and dam building companies are long gone. But there are still a wide variety of outdoor activities you can do there.
The small village of Khao Sok has easy access to the park itself. The entrance is a ten-minute walk from the village. You can hike one or two trails by yourself, but a guide is mandatory to go deeper in the jungle. Guided treks let you see the virgin rainforest up close. Again, you probably won't see any big animals, but you might catch a glimpse of some monkeys, birds, and reptiles. If you want to see elephants, head up to Khao Yai National Park near Bangkok. It's still cool to be surrounded by so much nature.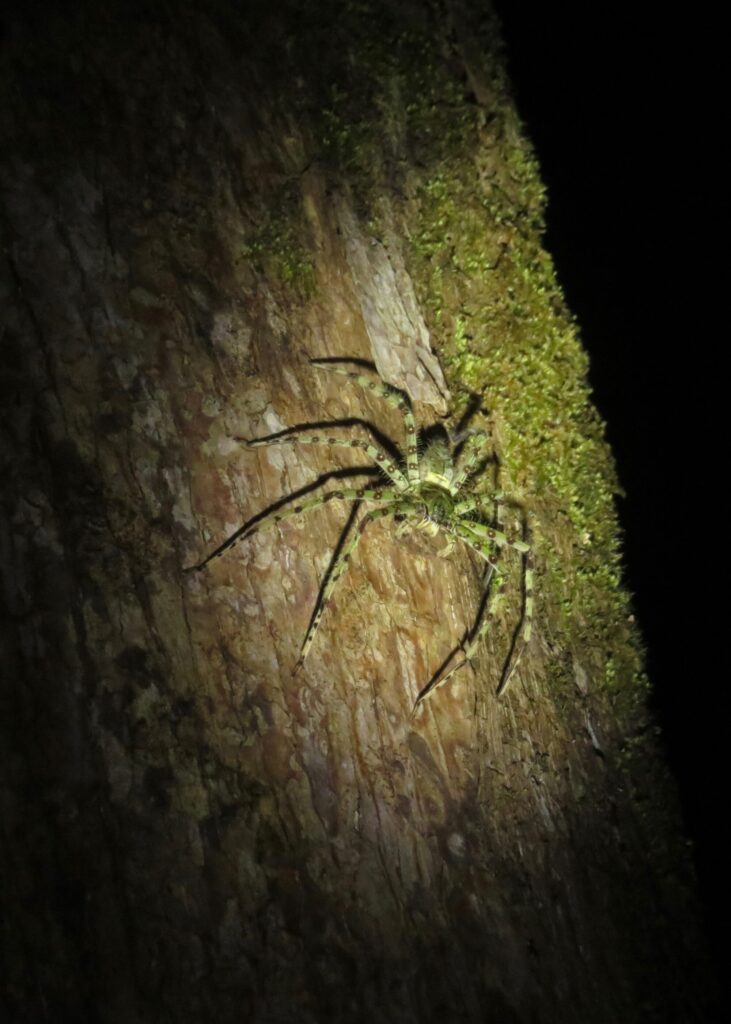 If you're there during the right part of the year you can see the rafflesia flower, the largest flower in the world. You can also do a night hike, which I always suggest any time you're in a rainforest. It's a great way to catch a glimpse of snakes, spiders, and poisonous centipedes. Again, you need a guide. Snakes, spiders, and poisonous centipedes are fun to see from a distance, but not so fun to step on by mistake.
Cheow Lan Lake is the real highlight. You can get boat tours to impressive-looking rock formations and possibly take in some more bird and wildlife watching. The tropical temperatures lend themselves nicely to swimming.
The absolute greatest thing to do is to take a kayak out on the lake. The water is fairly calm, and you can leisurely paddle to a private little corner. From there, there's nothing to do but sit back and soak up the jungle. Listen to the insects, birds and gibbons. Look at the surrounding hills dripping with vibrant green plants.
Here's How to Get to There
The park is pretty easy to get to from the provincial capital of Surat Thani. Surat Thani, by the way, is also not a bad city to see a very un-touristy side of Thailand. From there, just hop on a bus to Khao Sok village. There are a ton of hotels, hostels and bungalows there. The "downtown" is a bit tacky, but you aren't here for the town.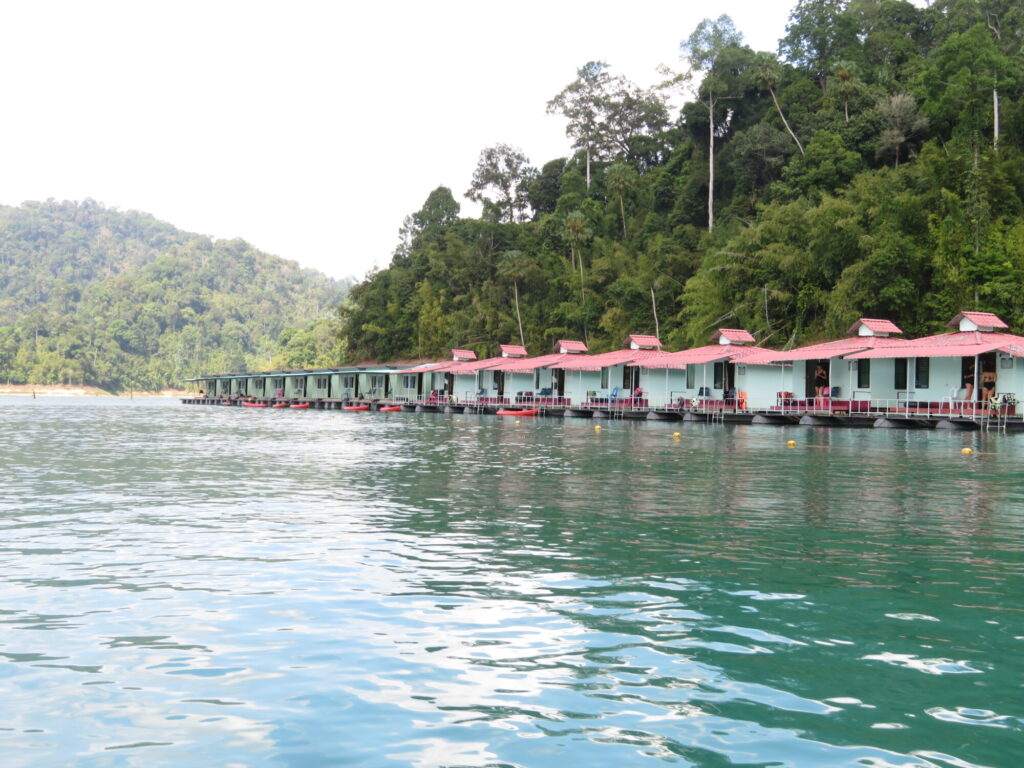 The lake is a bit of a hassle to go to independently. It's incredibly easy and not super expensive to sign up for an overnight tour. Transportation to the floating lake bungalows is included, and chances are your accommodation will store your luggage so you don't have to lug everything on a boat. Staying on the lake is really a must do thing here.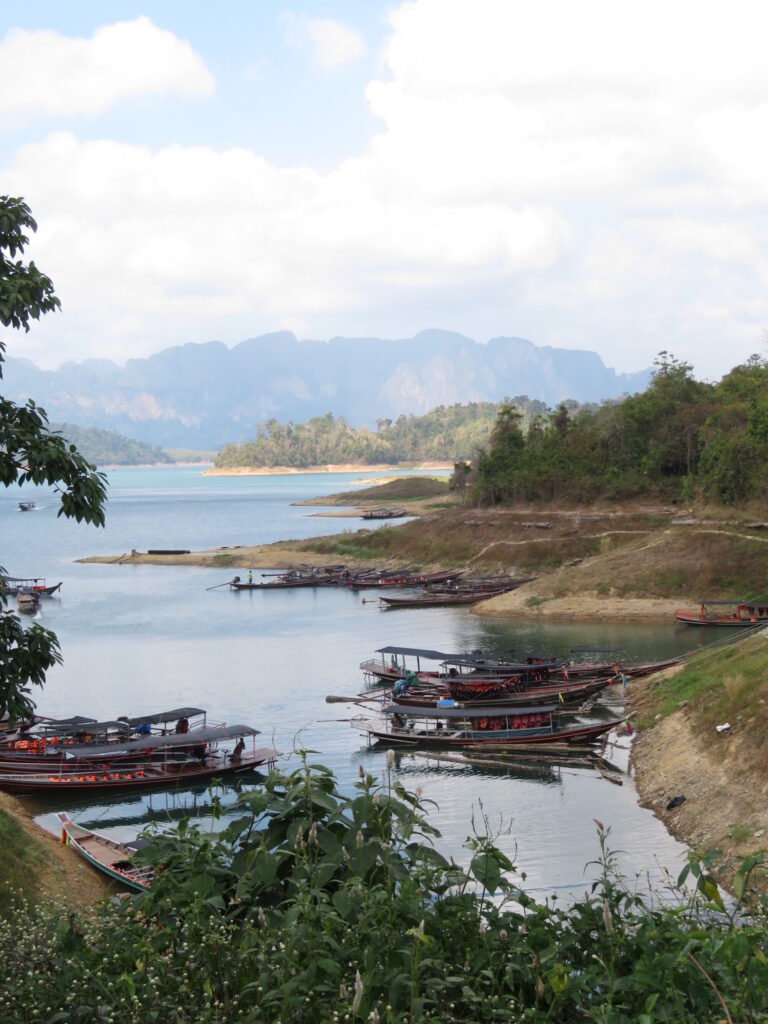 The problem with tours, is that you have to leave when they tell you to leave. It would have been nice to stay an extra night on the lake, and have a day just to chill out and appreciate the wilderness on our own time. On the other hand, you're somewhat limited where you can go independently, so the tour is worth the trade-off.
The floating lake bungalows we stayed at were pretty rustic. It's the jungle, so you may have to go without a cell signal or even electricity during certain hours. Instagram will be waiting when you get back. I'd even suggest just leaving the phone in Khao Sok village and enjoying a few days disconnected from the modern world. That's what I did, and I have zero regrets about it.
After all, I feel like that's the whole appeal of places like Khao Sok and other national parks. We need some time to forget about the stresses of the modern world and reconnect with nature. What better place to do that than on a lake in the middle of an ancient rainforest?