There isn't much to Jinshan Fishing Village, or Jinshanzui, or 金山嘴渔村. However, it's a nice place to spend an afternoon wandering around old narrow streets, soaking up some ancient Chinese architecture, and maybe buying some dried fish. Unfortunately, despite being a seaside fishing village, it isn't the best place to see the ocean.
How to Get to the Jinshan Fishing Village
If you spend most of your time downtown, it's easy to forget just how absolutely massive Shanghai really is. There are literally miles and miles of skyscrapers in this city. Get far enough away, however, and you can still get a glimpse of rural China. Or maybe it's more like going back in time to the days before concrete and development took over.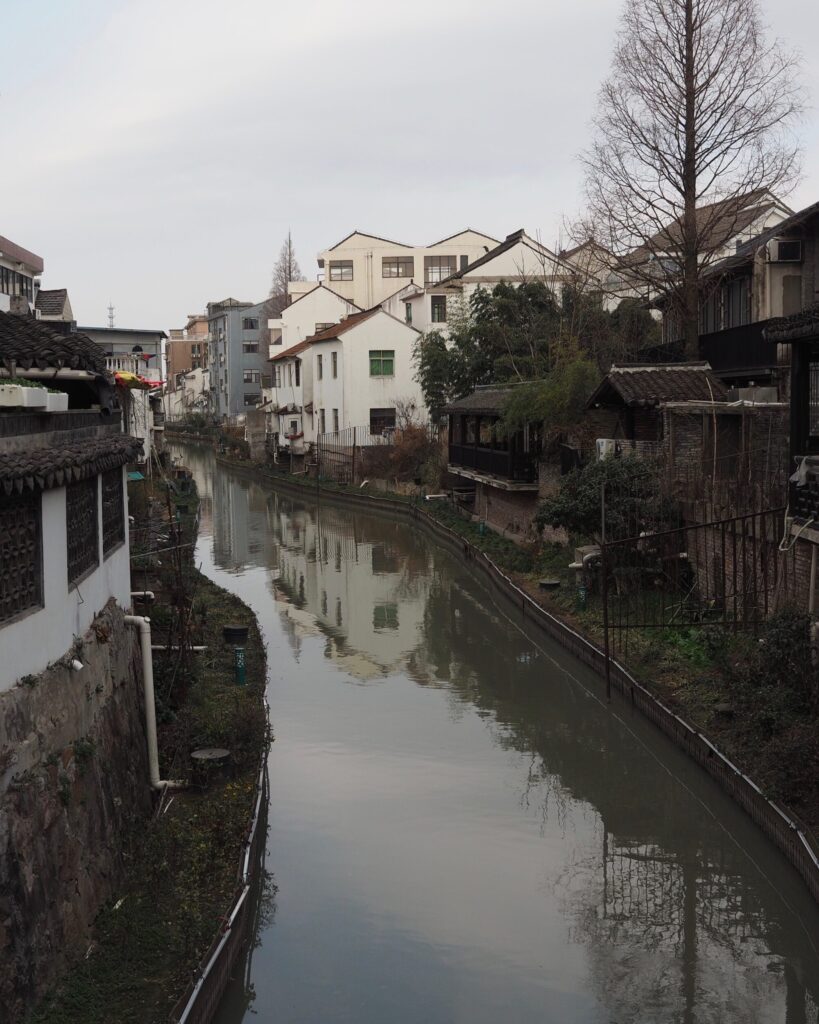 Jinshan is one of those places at the very edge of the city. It takes about an hour by taxi, and will cost you around 400-500 RMB to go there and back. That's about $77 in American money, including tolls and holiday fees. If you think it's ridiculous to spend that much on a cab ride, you can take the metro to the Shanghai South Railway station, then transfer to the "Jinshan Line".
The fishing village borders the East China Sea. The area is surrounded by various orchards and fields, and you can see some very rural looking clusters of old houses along the way. There's also a major petrochemical manufacturing area nearby. In fact, one of my closest Chinese friends works there. I never thought that I'd be friends with the safety manager of a major Chinese petrochemical plant, but here we are.
Deep in the Village
Despite the nearby factories, the air around the village felt fresh and clear, though the sky was a bit cloudy. The Jinshanzui Fishing Village is fairly similar to other nearby water towns or 古镇(gu zhen) "ancient towns" surrounding Shanghai. Old buildings, narrow streets, and crowds.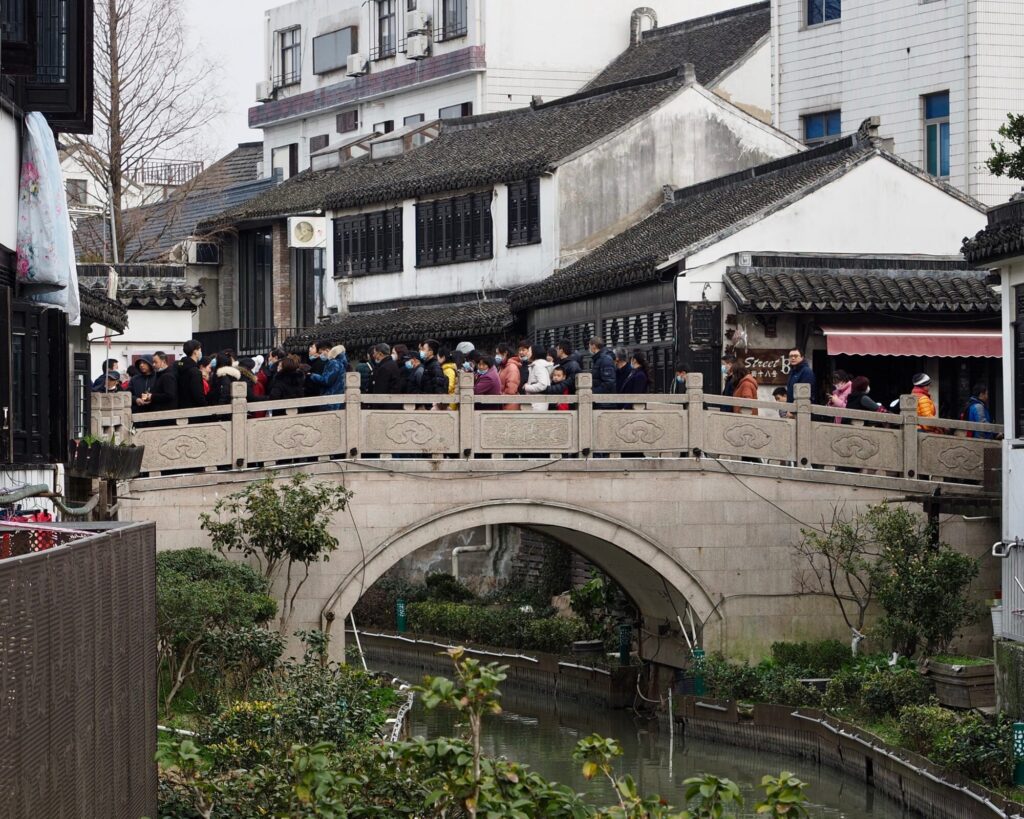 If you only have time to visit one water town, then Jinshan is probably not your best bet. It's quite small, and not nearly as picturesque as Suzhou or even nearby Zhujiajiao. I personally love the ancient towns, though, so I'm all about it. There are also almost zero other foreign tourists, though it's quite popular with the Chinese.
The main street is packed. This is China. You get used to being crammed ass to elbow with a thousand other people walking down a narrow lane, but prepare to be jostled. The main street is full of food and souvenir shops, although I will say the shops in Jinshan were a little less tacky than some of the others. There's also a lot of people selling dried fish and shrimp.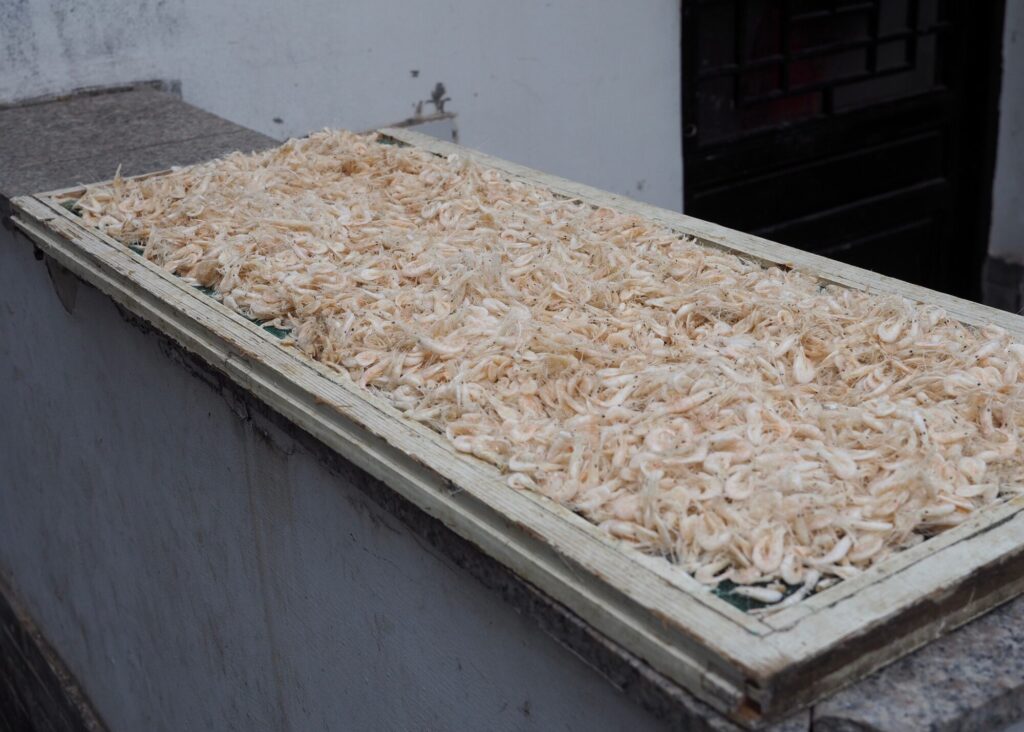 All you need to do is take a turn off the main street and you'll find yourself in a relatively empty back alley. There are tons of little twists and turns to explore. Unlike some other water towns, Jinshanzui Fishing Village has a very lived in feel. This isn't just a tourist village, but a living breathing place where people still go about their daily lives.
The Missing Temple of Jinshanzui
There were signs all throughout the village, pointing the way to the "Mazu Godess Temple". I enjoy looking at temples, so we decided to check it out. We wandered through some alleys, past a cute little pond, and newly built family houses that'd replaced the traditional white plastered Chinese architecture.
We followed the signs, and took a turn down a narrow road that went past a canal, a few crumbling old buildings, and some really mangy looking stray cats. Then, the road just kind of stopped.
There was no temple, only a couple of confused looking Chinese tourists.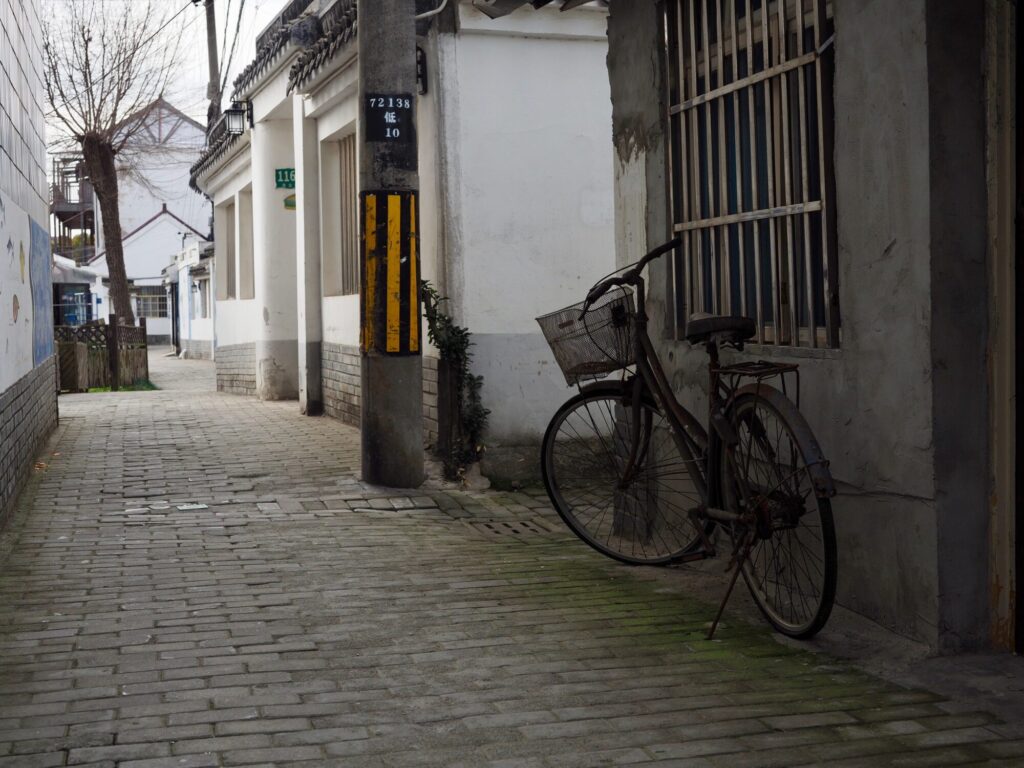 We peaked down some other pathways, thinking we maybe missed a turn, but still couldn't find the temple. A few old villagers glared at us as we walked by, and so we turned back to the main part of the fishing village. Again, people still live and work in Jinshan Fishing Village, and I'm not trying to blow up their spot just to get some temple photos.
I have no idea if the temple was torn down, or if somebody just mixed up the signs. Either way, I'd suggest looking elsewhere to pay your respects to Mazu, goddess of the sea.
But, You Can't See the Ocean
There's a main road that runs between the village and the East China Sea. On the village side are about a million sea food restaurants. There are also hotels, should you desire to spend the night, and nightclubs, should you desire to get drunk and dance.
Across the road, a line of tarp tents sit patiently next to haphazard parking spaces. Elderly men and women sell dried fish off long wooden tables. I imagine it'd be a good place to buy some dried fish, if you were in the market for that sort of thing. There were also a lot of people selling pickled vegetables and fresh bok choy.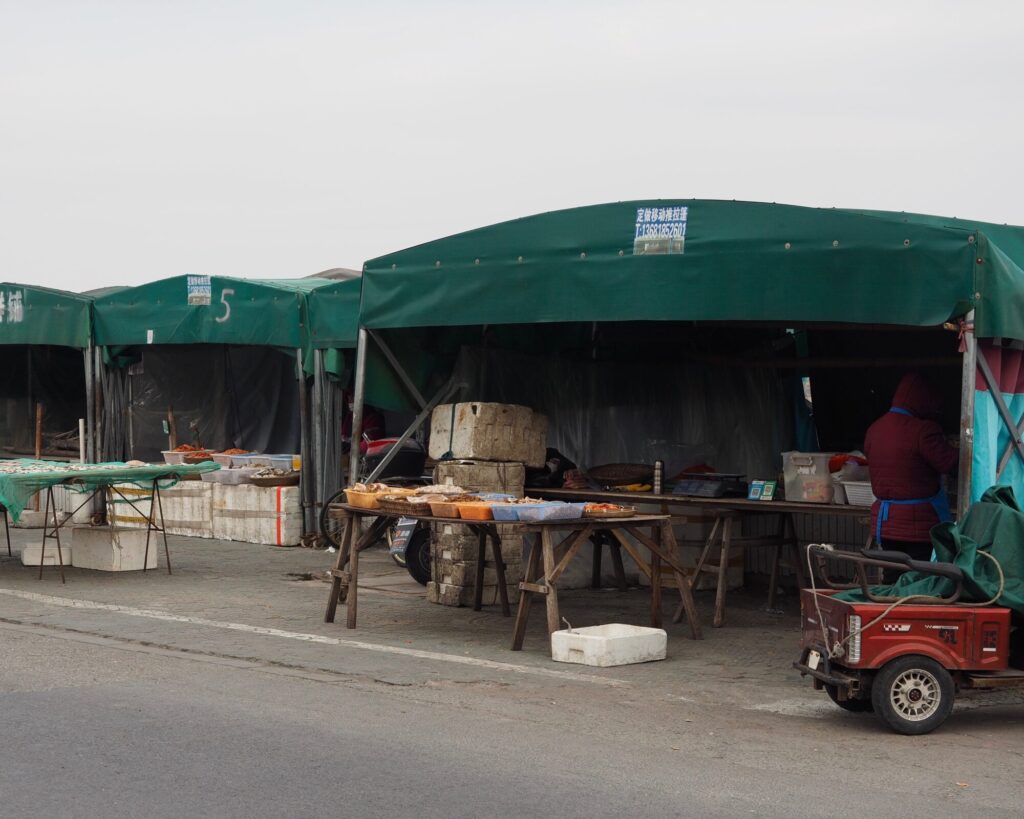 There's a green fence blocking the view of the sea behind the vendors. A long flood plain stretches out to a big dirt and concrete seawall. You can see Jinshan Island in the distance, from which the area gets its name. However, you really can't see the ocean at all.
I was a bit disappointed, because I like the ocean and I like looking at it. The seawall must've been built in the last few years, because other articles mention the seaside views. I'm guessing it'll be good to prevent flooding when climate change causes sea levels to rise. In the meantime, I'll have to go elsewhere to get a glimpse of the ocean.
Supposedly, Jinshan also has a proper beach somewhere, where you can see the ocean, even though you can't swim. We didn't make it there, but there's a whole article about it here: https://www.smartshanghai.com/articles/travelsightseeing/outbound-shanghai-has-a-beach-a-journey-to-jinshan The article is four years old, though, so read at your own risk.
Overall, Jinshan Fishing Village makes for a pleasant afternoon. I wouldn't place it high on a list of "must-do" things in Shanghai, but it's also a nice glimpse into rural Chinese life without technically leaving the city. It's also fairly off the beaten path for foreigners, and you're likely to be the only non-Chinese person there.
Just don't go expecting ocean views or making any offerings to the Sea goddess.