Sometimes you find an amazing travel experience through extensive research and planning. Other times, you just sort of randomly stumble on them. The second case happened to me when I randomly stumbled on Beihai Park in Beijing. It turned out to be one of the best random stumbles I've ever had.
Beihai Park's Location and History
Beihai Park is located almost smack dab in the middle of downtown Beijing, just northwest of the Forbidden City. However, it's mostly behind a big wall, and can be easy to miss if you don't know what you're looking for. You can take subway line 6 to the aptly named Beihai station, then wander east a bit for the park entrance. The entrance is only 10 yuan (less than $2.) The park is open from 6:30 to 8:00 pm.
Here are links to some maps:
Apple Maps
Google Maps
Baidu Maps
Beihai Park, like the Summer Palace, was originally an imperial garden. It was first constructed in 1166 and served as a governmental and religious center for emperors of the Liao, Jin, Yuan, Ming, and Qing dynasties. The Park is considered the world's oldest and best-preserved imperial garden. At least, according to the park's own signage, that is.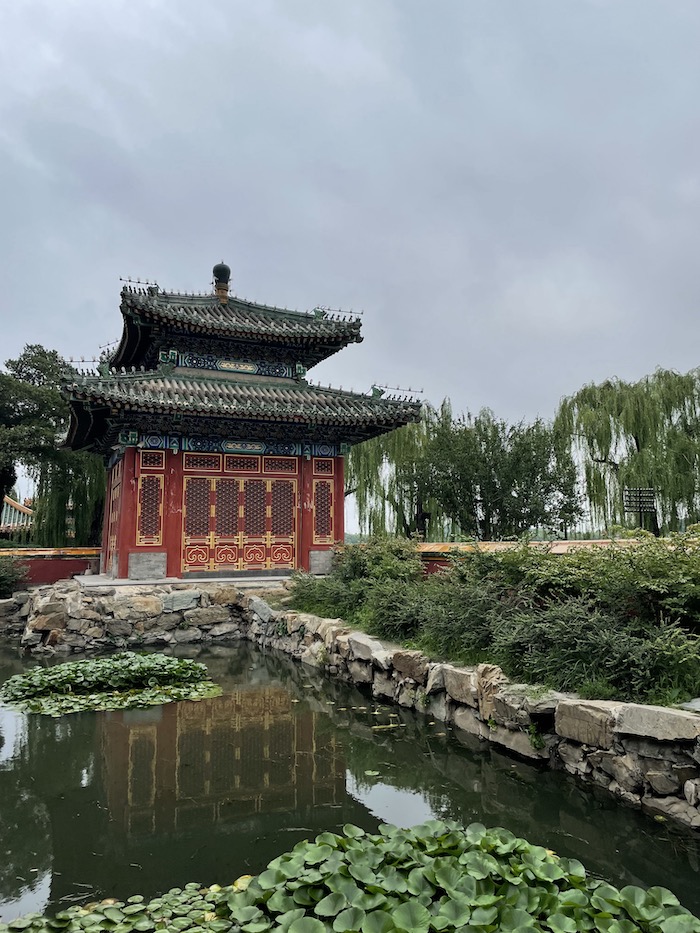 According to other sources, Beihai Park was also where the emperors tried to live forever. There was an ancient legend about three magic mountains where the gods hid herbs that could make people immortal.
Emperor Qin Shishuang sent numerous people to look for these mountains. They all failed miserably. That didn't stop Emperor Qin. He decided to build his own mountains, piling up dirt and digging a pool to match the mountains of legend.
From then on, subsequent emperors (including the ones who originally built Beihai Park) would construct parks with a pool and three hills near their palaces, in the hopes of attracting the Gods and their immortality potions. The whole living forever thing didn't quite work out, but at least China got some damn nice parks and gardens out of the deal.
Follow the Green Blobs
We stumbled on Beihai Park, not looking for immortality, but instead while trying to find some nice green space in the city. I'm a huge fan of China's parks and classical gardens, so when I find myself with some free time, I'll like to pull up my maps app and look for nearby green blobs that might be interesting parks.
Beihai Park happened to be a twenty-minute walk from our hotel. It was a nice walk through central Beijing, and totally worth getting drenched in a mid-summer downpour.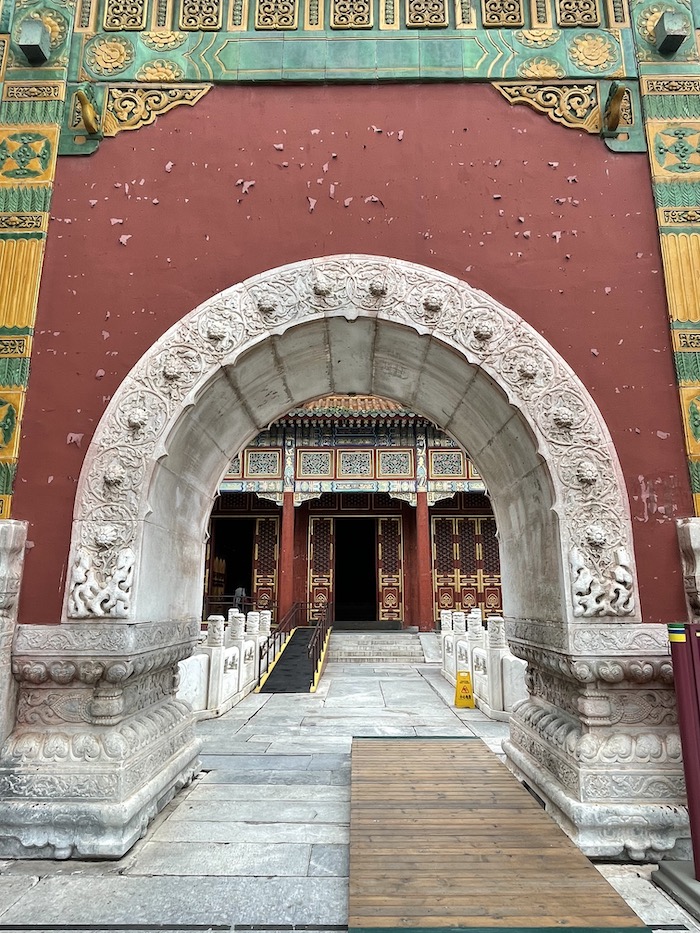 A calm lake surrounds the romantically named Jade Flowery Islet. The White Dagoba, a pagoda built in the Tibetan style sits on top of the island, overlooking the whole park. Paved paths wind around the lake and circle around the island.
Around the back of the lake, there's the Nine Dragon Screen, which is actually a big wall covered in colorful glazed tiles formed into a whole bunch of dragons. I'm not sure how many, exactly, but it's definitely way more than nine.
There are numerous other temple structures, pavilions, and gardens within gardens scattered throughout the park. If you get sick of looking at old Chinese architecture and art, you can always rent a boat and go out on the lake. In fact, we liked Beihai Park so much that we came back again when it stopped raining and did just that.
Beihai Park is easily one of China's best public parks. It's a great way to wander around some pretty top-notch Chinese architecture and scenery. You won't find the key to immortality there, but you will find a lovely afternoon away from Beijing's bustling city streets.
And thanks to this website, you won't have to randomly follow your map's green blobs to find it. You're welcome.