Everybody says to avoid Bangkok if you're traveling to Thailand. This mega-city is portrayed as a dirty, crowded, perverted cesspool. Okay, so it's true that Bangkok is crowded, and some parts might be a little dirty and perverted, but overall, the city is actually quite a pleasant place to spend a few days. The capital is full of historical sights, delicious restaurants, and a generally laid-back, fun vibe. While the lush jungles and warm beaches might be pulling you elsewhere, it would be a shame to avoid Bangkok.
Bangkok is Thailand's capital and largest city. Over ten million people call this sprawling, urban jungle home. While it's currently a very vibrant, modern city, its history dates back to the 15th century.
Bangkok, You Don't Have to Put on Your Red Light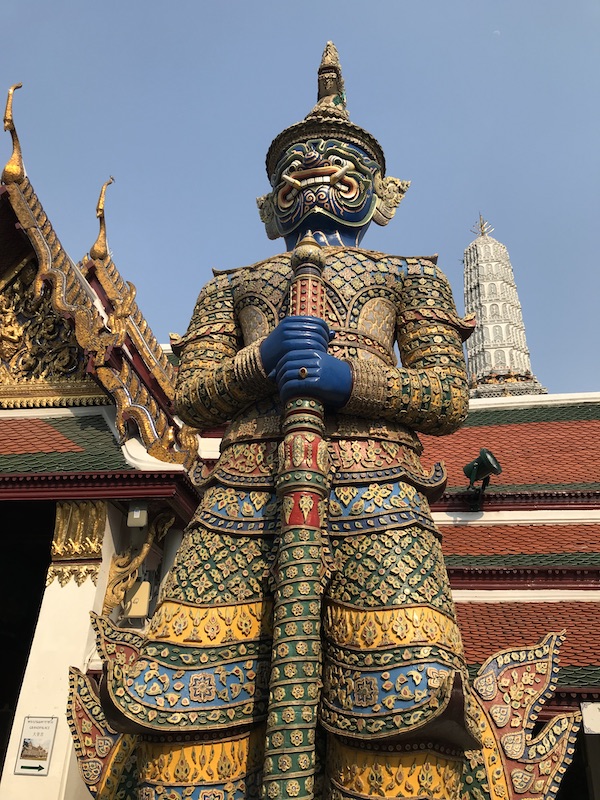 So, let's just get the sex tourism question out of the way first. Bangkok's reputation as a den of carnal depravity starts in the 1960s. It became a destination for U.S. troops on R&R during the Vietnam war. Thousands of 18- and 19-year-old American soldiers drew in thousands of strippers and prostitutes. Prostitution is illegal in Thailand now, but it still happens.
Sex work is real work, and prostitution is much more socially acceptable in Thailand than it is in other countries. However, most Thai prostitutes and strippers are poor, uneducated women from rural villages who turn to sex work due to poverty. In the worst-case scenario, these women (and sometimes men and boys and girls) can be trafficked refugees from nearby Myanmar, Laos or Cambodia. That's a far cry from your hip, sex-positive high school classmate who started an Only Fans.
When we were planning our trip to Thailand, there were a surprising number of people who suggested we go to a 'ping pong' show. (If you don't know what that is, google it sometime when you're not at work.) Call me a prude, but the whole concept feels gross and exploitative. There's just something extra imperialistic about white First Worlders coming to the developing world for sex tourism, and I want no part of it.
That being said, while prostitution and strippers are readily available in Thailand, it's also entirely possible to avoid those sorts of things with almost no effort. In fact, unless you're specifically looking for a red-light district, you're very unlikely to stumble upon one. We spent four days in Bangkok and didn't come across a single brothel or strip club. The city has so much more going for it than sex. For example…
The Royal Grand Palace
The number one, most impressive thing to see in Bangkok is the Royal Grand Palace. This huge complex of buildings was the residence and official office space for the kings of Thailand since 1782. While the king and royal family don't live there anymore, the palace is still used for some official ceremonies.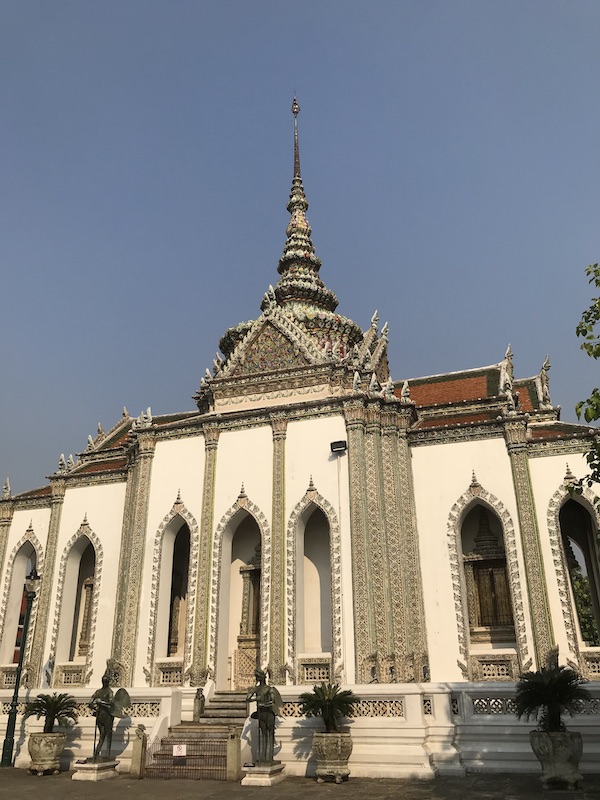 You can easily spend a long afternoon wandering among the golden roofed palace buildings, admiring the unique Thai architecture and huge collection of statues. There's even a model of Cambodia's Angkor Wat.
My favorite part by far was the Ramakien Gallery, just north of the Emerald Buddha temple. A covered walkway goes around the edge of the temple, the walls are painted with murals depicting the entire story of the Ramakien, a Thai epic poem. The detail and care that went into painting these walls is astounding.
When you go to the Grand Palace, be warned there is a dress code. The palace is considered a temple, so you don't have to dress up in a formal tuxedo or anything, but you do need to be covered. No tank tops, sleeveless shirts, vests, or miniskirts. The one that got me was no shorts. I had to duck into a nearby shop and buy some slightly overpriced elephant pants to slip on over my shorts.
The Royal Grand Palace is open from 8:30 am to 3:30 pm every day. The cost is 500 Thai baht per ticket. That's under $15 dollars, and totally worth it.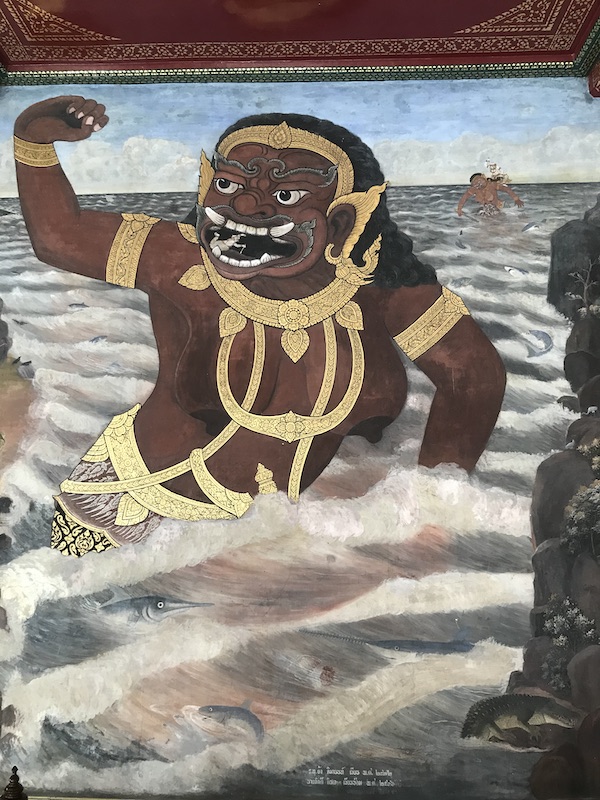 The Reclining Buddha Temple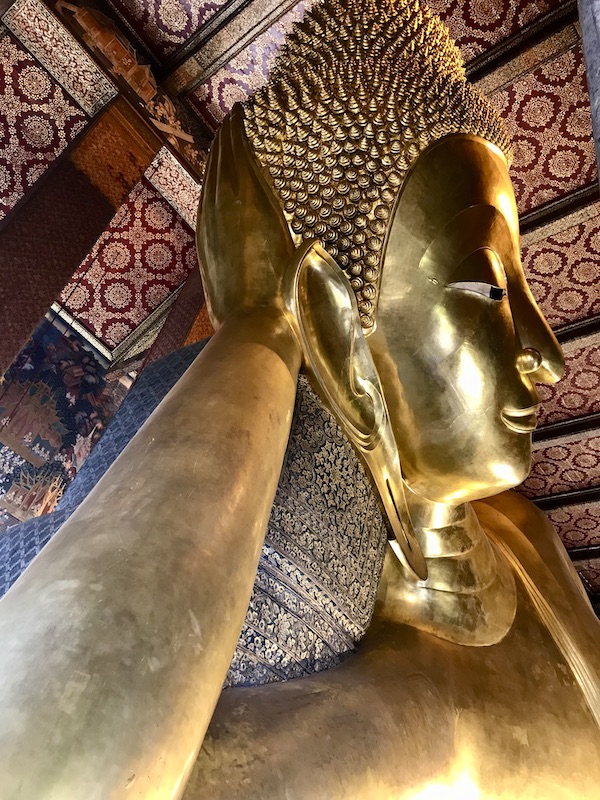 Just south of the Royal Grand Palace is Wat Pho, also known as the reclining Buddha temple. This is another sight you shouldn't skip when you come to Bangkok. Wat Pho is one of Bangkok's oldest temples, it was there before Bangkok was Bangkok. It also houses the largest collection of Buddha images in Thailand. And… there's the reclining Buddha.
Where else in the world can you see a gigantic golden statue of the Buddha just chillaxing on his side?
Pictures don't really give a sense of how impressive the reclining Buddha actually is. He's massive. So big that it's almost impossible to fit the entire statue into a single picture. The temple is also pretty impressive otherwise, filled with others statues, intricately patterned columns, and more very cool murals.
Wat Pho holds the honor of being the first public university in Thailand. It's also, apparently, the birthplace of Thai massage. You can still get a massage there if you're so inclined.
Since it is a temple, you'll need to dress conservatively. If you come to Wat Pho after visiting the Royal Grand Palace, you'll have the right clothes on. Wat Pho temple is open from 8:30 am to 5:00 pm. Tickets are only 200 Thai baht.
Wandering the Streets
If you're feeling tired of all the temples, Bangkok is a great city to wander the streets. There's a nice riverfront around the corner from Wat Pho and the Royal Palace. Bangkok's Chinatown is also full of some interesting old architecture. There are tons of markets and little nooks and crannies to poke your nose into all throughout downtown Bangkok.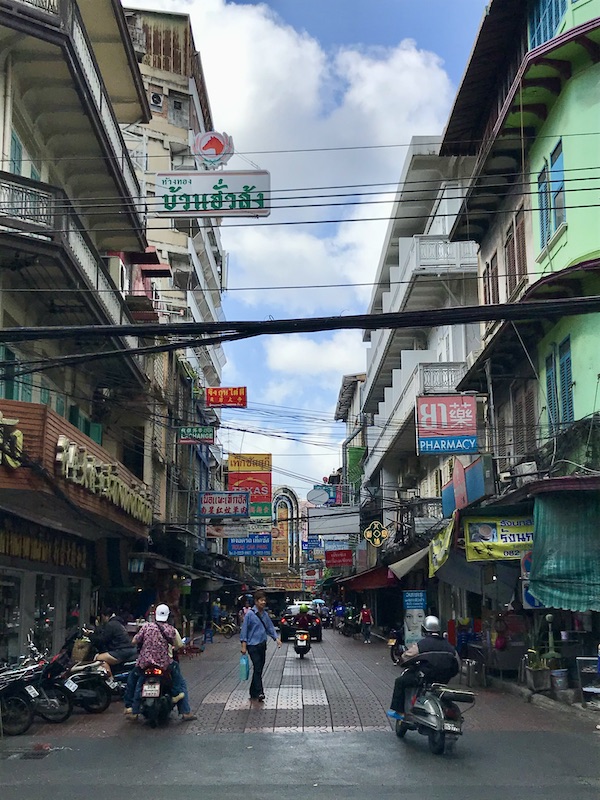 If you're a fan of monitor lizards (and who isn't?) you should definitely check out Lumphini Park, where you can rent a paddleboat and cruise around a small lake alongside these massive reptiles.
The main tourist zone in Bangkok is centered around Khao San Road. I'm guessing this is the place where the people who say to avoid Bangkok spend most of their time. The road is a pretty unimpressive strip of loud bars, street vendors, touts, and drunken European frat boys. It's exactly like every other tourist party street anywhere else in the world, and totally skippable.
However, if you want a less obnoxious vibe, you can head a little to the northwest, between Khao San Road and the Chao Phraya River. There's a much more relaxed collection of bars, restaurants, and cheap hostels between Phra Athit Road and Chakrabongse. It's still touristy, but much less obnoxious than Khao San road. When we were there, we saw some adorable child break dancers busting out a routine on the sidewalk, so that was cool.
Safety While Traveling in Bangkok
We never had any issues wandering around Bangkok, and only ever felt uncomfortable due to the heat. Bangkok is hot. I hate to admit it, but we missed seeing as much of the city as I initially wanted because we spent some hot afternoons in the hotel pool.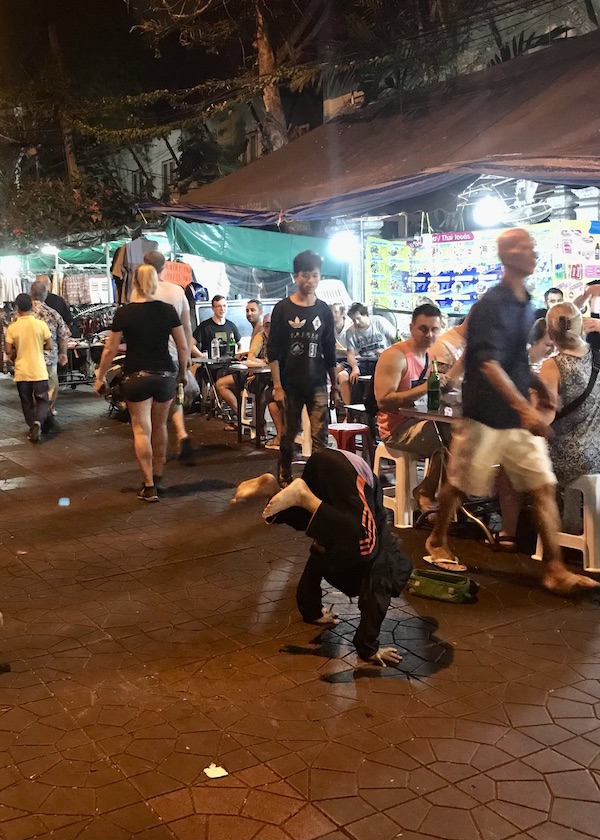 Also, keep in mind that the city is huge. Distances that look short on the map feel way longer on foot under the blistering tropical sun. The most fun way to get around Bangkok is by tuk-tuk, those cute little three-wheeled cars that you can see cruising almost everywhere in South East Asia.
Be warned that some tuk-tuk drivers can be a little sketchy. A driver might tell you such and such temple or attraction is closed today but will offer to take you to some other really cool place. He's lying. Some drivers get commission by scamming tourists into going to high-pressure jewelry markets. If this happens, politely refuse and go find another tuk-tuk.
Overall, though, Bangkok is very relaxed and very safe. The people are generally friendly and helpful. If you're flying into Thailand, you'll likely fly in and out of Bangkok on your way to the beach. Do yourself a favor and stay for at least a couple of days.
One Night in Bangkok and the World's Your Oyster
By the way, there's a song about Bangkok that was a minor hit back in 1985. "One Night in Bangkok" is credited to Murray Head, from the musical "Chess" produced by one of the guys from ABBA. The Thai government banned the song since it's full of stereotypes. It's about a chess tournament in Bangkok. The genre could best be described as New Wave, mixed with a little rap. It's fucking ridiculous.
"Siam's gonna be the witness
To the ultimate test of cerebral fitness
This grips me more than would a
Muddy old river or reclining Buddha

And thank God I'm only watching the game controlling it

I don't see you guys rating
The kind of mate I'm contemplating
I'd let you watch, I would invite you
But the queens we use would not excite you"