Sanya is China's premier tropical island beach destination. It's full of palm trees, beaches, and crystal-clear water, but remains relatively unknown West of the former Iron Curtain. Imagine a kind of Communist Cancún, filled with Chinese and Russian families instead of North American spring breakers.
Now, I am typically not the type of person who goes in for super-popular tropical beach destinations. I booked the first bus I could out of Cancún and was resolutely underwhelmed by the tropical islands in Thailand.
Sanya is also a built-up, heavily touristed resort city. It's home to one of China's largest free trade areas and duty-free shopping malls, as well as numerous high-end hotels and golf courses. Nothing about any of that appeals to me.
However, due to the city's relatively relaxed COVID-19 prevention policies, we decided to take a short trip to Sanya, just to get out of town.
It was awesome and now I want to go back.
Where is Sanya?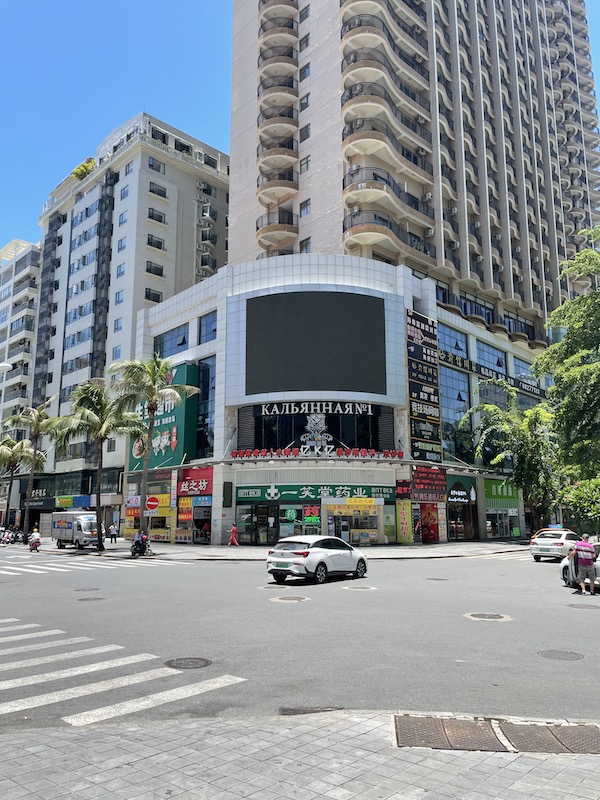 Sanya lies at the very bottom of Hainan Island, China's southernmost province. The center of the island is covered in green forested tropical mountains and dotted with villages, farms, and coconut plantations. The coast is fringed with white sand beaches, palm trees, and towering luxury hotels. They call it the "Hawaii of China" for a reason.
In winter, when Beijing and other parts of northern China get buried in snow, tourists flock by the thousands to Sanya and other locations on Hainan. I've heard rooms book up months in advance. Beaches get so crowded that you can barely move. I'd suggest visiting in the off-season.
The city of Sanya is rather large, divided into various zones that are further apart than you'd think looking at a map. Maybe they just feel far under the tropical sun. Sanya bay is cheap, but right under the airport. Yalong Bay and Haitang Bay are supposed to be nice, but are filled with five-star hotels mere mortals like myself can only gawk at from the outside. We stayed in the Dadonghai area, which is the busiest and cheapest of Sanya's beach districts.
In the pre-COVID days, Dadonghai was also a popular destination for Russians. Signs are in Chinese and Russian. Restaurants commonly serve Borsht. The locals assumed we were from Russia and replied to our questions with "da" or "nyet."
It was weirdly refreshing to be in a tourist area that didn't exclusively cater to the whims of North Americans and Western Europeans.
The Best Beach in China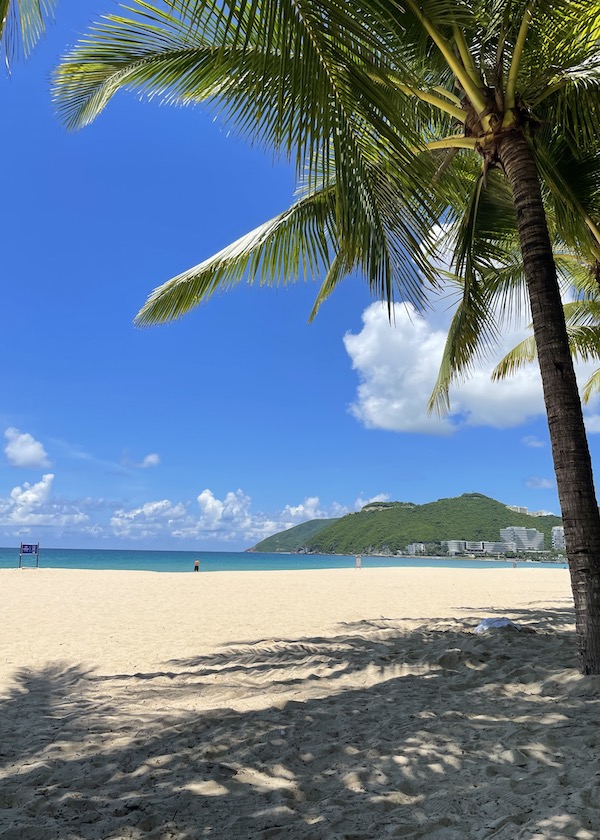 The main reason all those Russians come to Sanya, and Dadonghai, is for the beach. The beach was absolutely freaking awesome. For some reason, I had really low expectations. I imagined grey sand, murky water, and filled with trash or something. Low expectations.
Instead, the beach in Sanya rivaled some paradisical Caribbean beaches I've been to. A long curving stretch of soft, light brown sand. Crystal clear water, maybe not as warm as the Caribbean, but refreshingly cool in the heat. You can walk out to your chest and see the bottom.
There are dedicated roped-off swimming areas, which really bothered the authors of some online reviews I read. Maybe because this is China and dedicated swimming areas are an attack on freedom. The freedom to get whacked in the head by a jet ski. This being China, enforcement was pretty lax and plenty of people swam outside of the designated boundaries, even when the lifeguard was awake.
Beach Nightlife
There's a sort of boardwalk thing that curves around alongside the back of the beach. It's full of bars and restaurants, as well as the empty shells of former bars and restaurants that likely closed over the course of the pandemic. You can pay a little bit to have a shower, buy floaties, and even fresh coconuts.
At night, the lights start flashing and the EDM begins to blare from the speakers. There are all sorts of food and drink options, from the aforementioned borsht to Xinjiang-style lamb skewers to full-on Chinese seafood feasts. It's all a little overpriced, but really not bad for a beach-side town.
We walked by one little bar that featured a Chinese band singing a cover of "Moves Like Jagger" by Maroon 5. I generally prefer moody post-punk to pop-rock, so we kept walking. As we curved around the bay, I heard the unmistakable "whoo ooh whoo oooh whooo ooh" melody of the same exact song.
Was the band playing so loud that we could still hear them on the other side of the beach? Were there hidden speakers set up to relay the band's generic pop covers? Had Maroon 5's catchy melodies finally wormed so far into my brain that I was doomed to a lifetime of having "Moves Like Jagger" stuck in my head forever?
Nope. Turns out there was another bar at the other end of the beach, with another cover band. Playing the exact same songs as the first bar.
It seems Sanya and the beach gods were insisting we listen to Maroon 5 that night. We settled in at the second bar and ordered a couple of drinks. Eventually, the band got around to playing some ABBA and we danced alongside a Russian family. It was fun.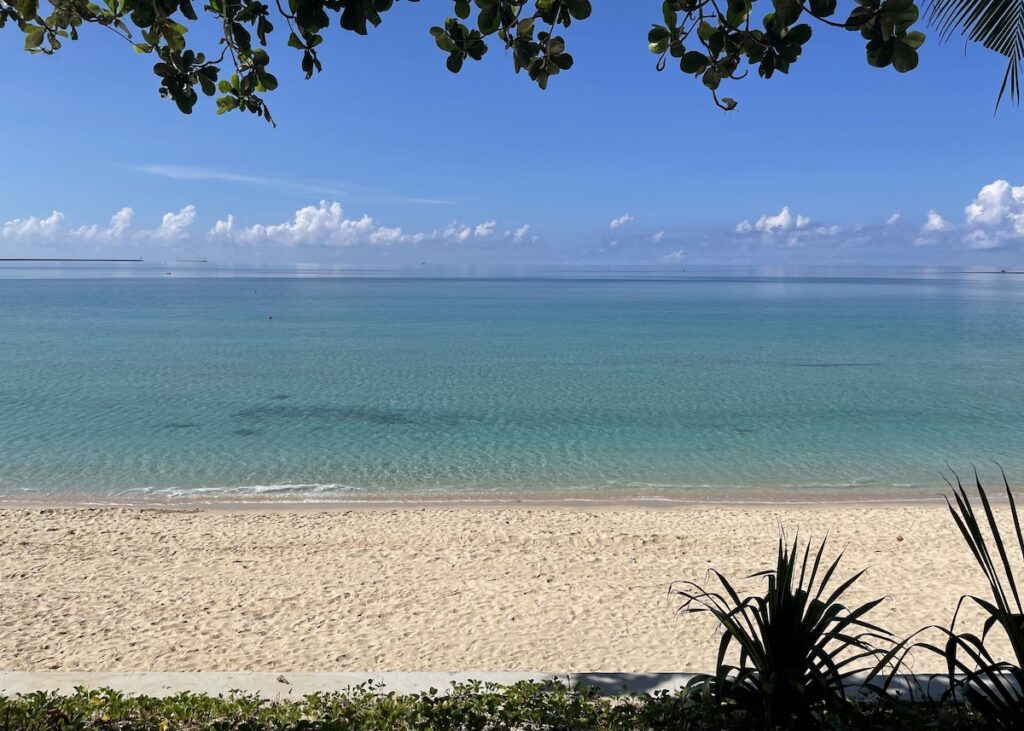 What to Do in Sanya When You Get Sick of the Beach
Sanya has other things to do besides lounging on the beach and listening to covers of cheesy pop songs. The city is punctuated by stately green hills that reach up toward the sky like they're really trying their best to be mountains. You can hike some of them, if you want, I'm sure they'll appreciate it.
Luhuitou
Our hotel was nearby Luhuitou, which is translated to something like "the deer turns its head backward." There's a story there, but I don't know what it is.
There wasn't really a trail, but you can walk along the side of the road. We saw some "emotionally unstable" monkeys and were treated to some great views of the city. The top is full of little cafés and food stands. A huge crowd arrived at the top of the hill for the sunset, and we got a little jostled as people tried to get their selfies. The sunset, though, was freaking amazing.
It took us maybe about 30 minutes to climb the hill from bottom to top. We got a little sweaty, but it was worth it. You can also take an adorable shuttle bus up if you aren't the walking sort. The shuttle buses cost 15 yuan ($2 or so). Park entrance is free.
As of 2022, you have to register your information when you enter the park, due to COVID-19 regulations. We had some trouble doing so at first, but the staff was actually incredibly helpful and we got it all figured out.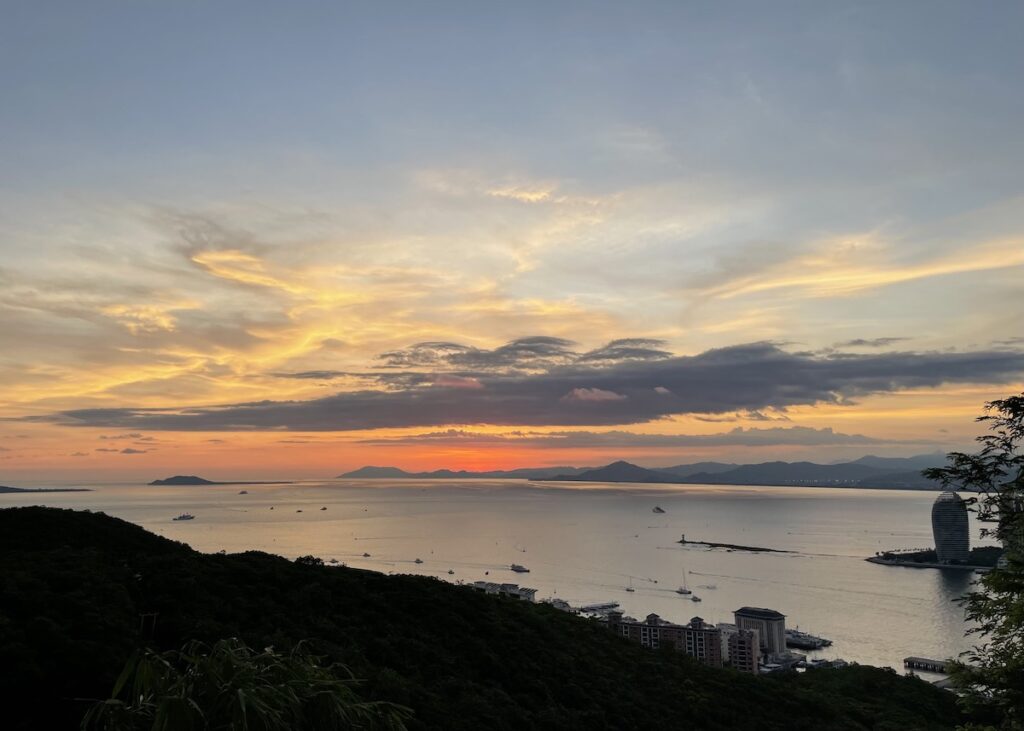 Phoenix Hill
Luhuitou was nice, but it was pretty small. If you're into climbing hills for the views, Sanya also has Phoenix Hill. Phoenix Hill is Sanya's highest peak and it's officially known as "Sanya Phoenix Mountain Love Forever Scenic Area, " which is a pretty cool official name.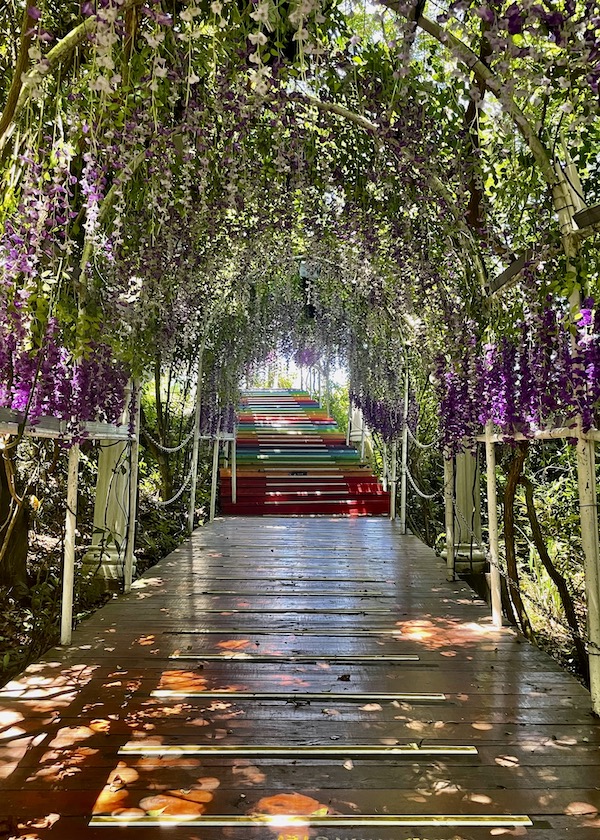 As far as I know, the cable car up Phoenix Hill is mandatory. We saw steps below the cable car, but I assume they're for staff and the people who work in the coconut and tea farms on the hillside.
There is a little hiking trail at the top of the mountain, which was far from a wilderness trail, but still quite pleasant. This being a "Love Forever Scenic Area", the trail was romance themed. Cute fiberglass figurines, statues of cupid, and signs meditating on the meaning of true love line the wooden boardwalk trail. I think there might also be some sort of light show. Some other signs also warned of cobras, but they had cute little drawings of a snake on them, so I think it was probably okay.
Our cab driver told us Phoenix Hill was better after 6 pm, but we ignored him and went in the middle of the day. It was hot, but also completely empty. If you haven't been to China, you have no idea how rare this is. The solitude made the trail feel much more romantic, actually.
The top of Phoenix Hill also has some pretty amazing views. You can see the entire city of Sanya and the surrounding water stretching out to who-knows-where. You can also, surprisingly, get a full view of a Chinese naval base complete with battleships cruising around in the harbor.
This is where I tugged at my shirt collar, Rodney Dangerfield style. A bunch of signs warned people not to take photos of "sensitive military subjects" but there didn't seem to be anyone checking. I still didn't take any pictures. I feel like getting arrested on suspicion of being a spy would really make for a bummer vacation.
Sanya's Food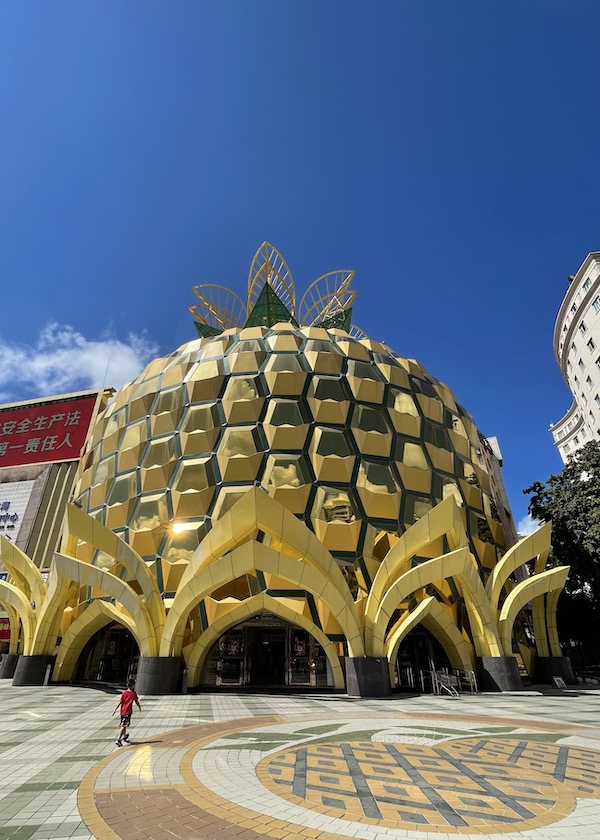 Sanya isn't typically recognized as a food destination, but I feel like I have to mention two of the incredibly delicious things I ate there. Hainan island grows a ton of coconuts, so we got to try two very excellent coconut-based dishes.
First was the coconut ice cream. This is a real treat if you're lactose intolerant, like me. Not only is it ice cream, but they also add all sorts of unconventional toppings like crushed nuts, jellied yams, dates, raisins, red beans, and some other stuff I didn't even know what it was. It was really good.
The most amazing dish in Sanya, though, was the Hainan chicken. It's served hot pot style; they put a big pot in front of you and boil things up right in the middle of the table. Instead of water or broth, though, they the water straight from the coconut. Once that's boiling, they toss in the chicken plus some dates, goji berries, and chunks of coconut. The whole thing cooks in a few minutes (the restaurant gave us a cute little timer shaped like a chicken.) Hainan chicken was one of the most delicious things I've eaten in China. That's saying a lot since China is the land of delicious food.
Should You Visit Sanya?
So, even though Sanya was never even on my list of places I'd wanted to go in China, I thought it was great. I think I may need to readjust my list. We were only there for a few days, so we didn't see everything. For example, we missed Nanshan temple, which is supposed to have a pretty cool gigantic Buddha statue.
Still, I had a blast in Sanya, and I would actually consider going back. It was a much-needed trip after months of COVID-19-induced lockdown trauma. It may have even changed my whole outlook on popular tourist destinations. Those crafty Russians might be on to something, there.