Not to be confused with the artist, the town of Dali is located a couple of hours' train ride north of Kunming in China's Southwestern Yunnan province. There are no melting clocks or dreamy oil paintings in this Dali. Instead, you'll find ancient architecture, bustling nightlife, and a gorgeous lake framed by regal mountain peaks. Dali. It's a cool place.
The Dali Vibe, Like Nowhere Else in China
Dali has a certain vibe to it, if you will, that's lacking from other cities in China. Walking through the streets of the old town and you start to feel like you've landed somewhere unique. Like you've got one foot in China and one foot in Southeast Asia and maybe your hands are somewhere else entirely.
The streets of Dali are filled with cute little cafes and brew pubs in addition to the standard tourist trinket shops. You can sample dishes from all over Yunnan province, as well as food unique to Dali's Bai minority culture.
The city really comes alive at night. Street vendors line the sidewalks. Horses pull colorful carriages through the cobblestone streets. Scantily clad women shake their thangs in bars to the blaring sounds of 90's European dance music.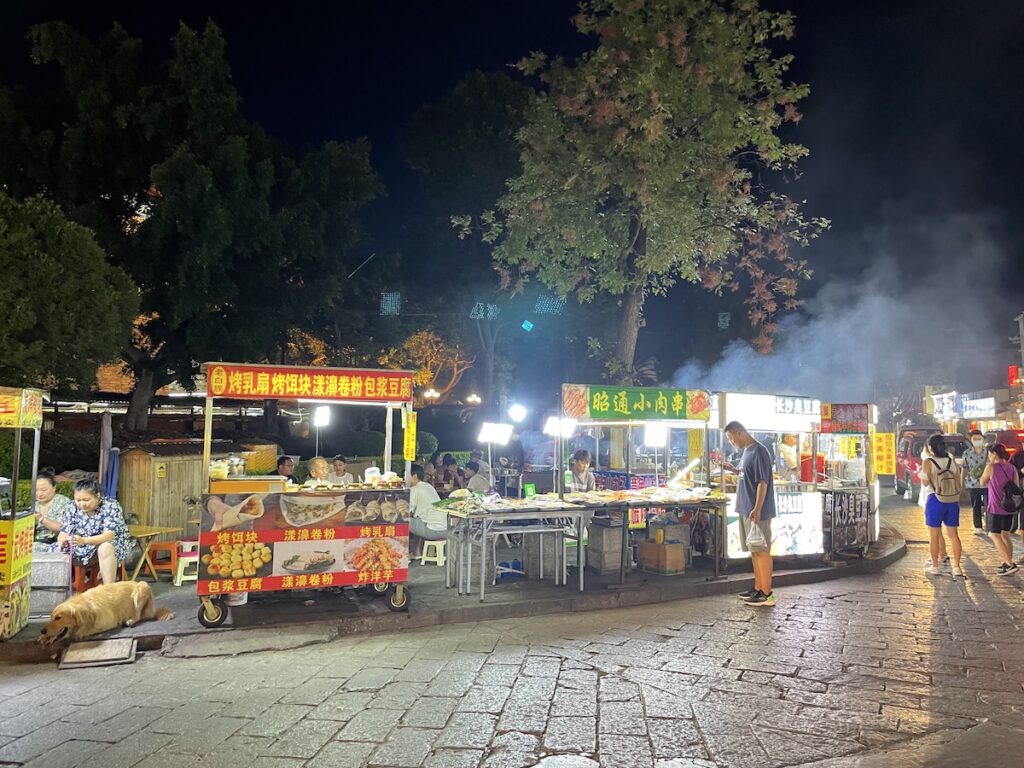 Nighttime is also when the town swells with crowds of Chinese tourists. Some streets are so crowded you might feel like the entirety of China's population decided to vacation in Dali all at the same time.
But, as with China's other tourist hotspots, you can always find a way to escape the crowds. On the side streets, you might stumble upon a bar where old white guys play noise rock as the opening act for a handsome Chinese heart-throb with an acoustic guitar. Wander further down an alley and you might find some sneering hipsters selling handmade jewelry and bespectacled college kids offering tarot card readings.
There's a night market under the shadow of the old town's East gate that feels like it's plucked right out of Thailand or Vietnam. Local MCs spit Mandarin rap at an open-air hip-hop bar, right across from a stall where a woman with a shaved head sells handmade incense burners.
It's a wonderful mess and totally unlike anywhere else.
The History of Dali
Dali's uniqueness extends beyond its nightlife. The city is the seat of the Bai Autonomous Prefecture and has a history as a cultural melting pot, of sorts. The Bai people are one of China's 55 ethnic minorities. Wandering through Dali, you'll occasionally see old women wearing their traditional dresses.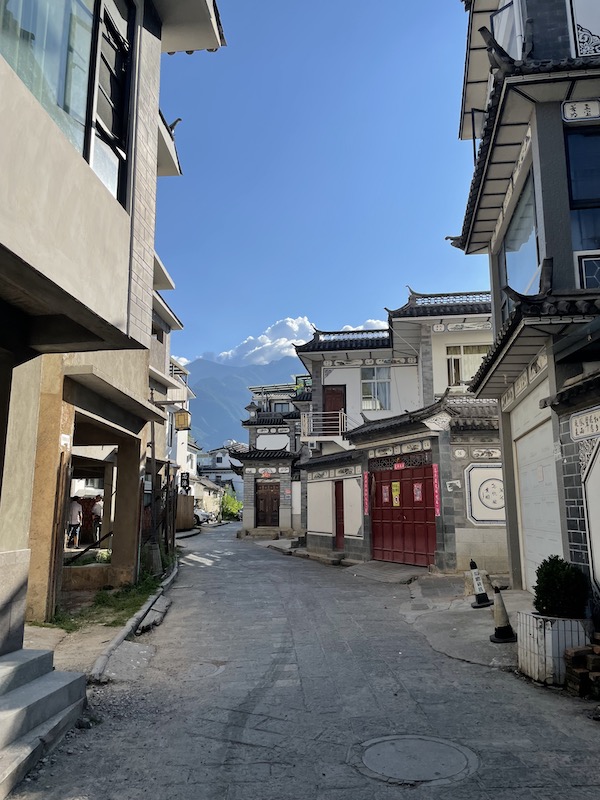 Dali was the capital of the ancient Bai kingdom of Nanzhao and later of the independent Dali Kingdom. The kingdom covered almost all of what is now modern-day Yunnan province and parts of Sichuan and Burma. The Kingdom of Dali lost its independence after being conquered by freaking Kublai Khan in 1253.
Dali and the surrounding regions grew wealthy in the middle ages due to their location at the center of the Ancient Tea Horse Road. As you can probably guess from the name, merchants traveled the roads and traded tea and horses. The trade network spread between modern-day China, Tibet, Burma, India, and Bangladesh.
The old town of Dali and nearby villages, are full of examples of Bai architecture. The buildings are painted bright white with black tile roofs. The buildings are painted bright white, with unique curving tiled roofs. The courtyards often have a large white wall, called a "shining wall" that's set up to reflect light into the main room. Families also often paint poems, prayers, or sometimes single characters on the walls facing Eastwards in order to ward off evil spirits from the nearby Erhai lake.
The Three Pagodas
The ancient Bai people also built the Three Pagodas at Chongsheng Temple. These pagodas are a short-ways north of Dali's old town, a moderate walk or an easy tuk-tuk ride away.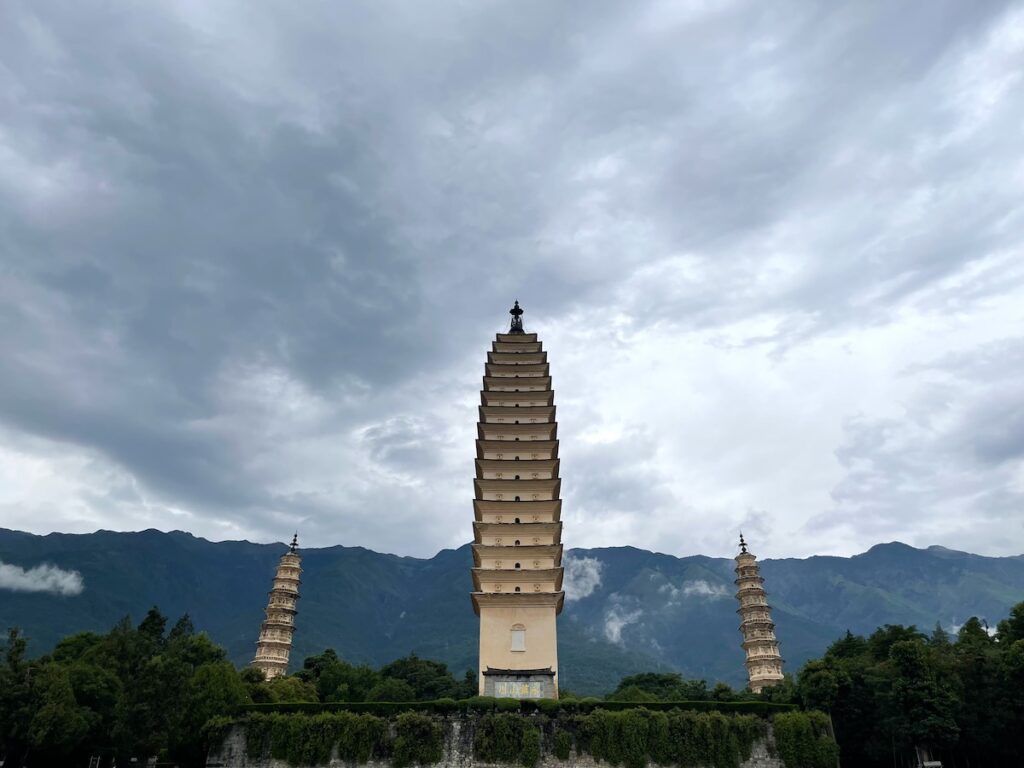 The ancient Nanzhou kingdom built the pagodas way back in the 800s. Legend has it that previous to this, dragons plagued the area and caused all sorts of calamities and natural disasters. The ancient Bai people built the pagodas to keep the dragons away.
Did it work? Well, the three pagodas have survived over 1000 years of war and numerous major earthquakes, including one in 1925 that supposedly destroyed 99 out of 100 buildings in Dali.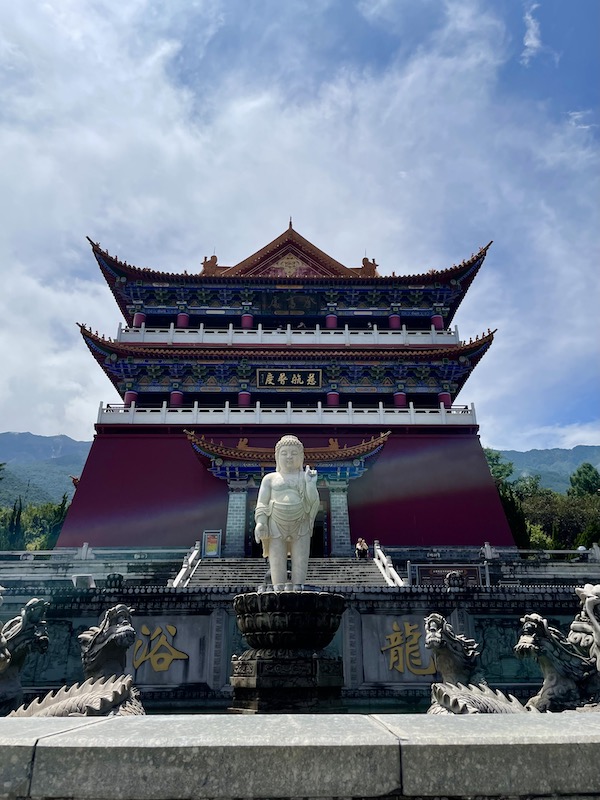 The pagodas are the only original part of the temple to have survived so long. War and earthquakes destroyed the other temple structures during the Qing dynasty. It took until 2005 to rebuild.
Even though the rest of the temple lacks the same ancient majesty as the pagodas, you can still find some very interesting sculptures. There's a fountain in front of the building at the top of the hill with a sculpture of the Buddha in the center. This Buddha happens to not be wearing pants. You can see his little stone penis and everything.
Inside the same temple building, there's a massive gold statue of a unique Bai god. It's a statue of the Buddha, but instead of being a man (like the statue in the fountain outside obviously is), this Buddha is an androgynous figure, neither really a man nor a woman. The Bai people were apparently down with gender fluidity way before the West.
Biking Around Erhai Lake and Xizhou Village
One of the best things to do in Dali, whether you're a man, woman, or anything in between, is to bike around Erhai lake. Bicycles are available to rent relatively cheap in Dali, and the lake is a short ride away. Just be careful crossing the highways.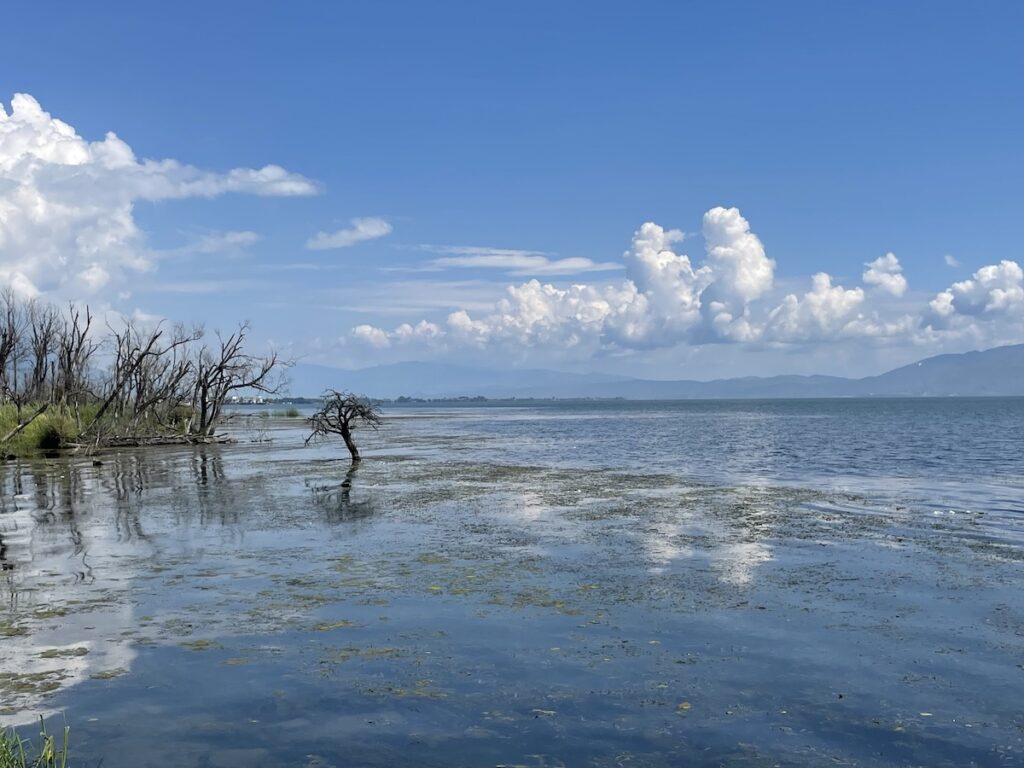 A lovely, flat, trail wraps around the edge of the lake, passing through white-walled villages, small agricultural plots, and various public parks. The Mountains behind the lake make a lovely background for pictures. In fact, you might have to swerve a bit to avoid the crowds of tourists taking selfies. But if you go far enough, the tour groups disappear and you feel like you've got the whole lake to yourself.
If you're feeling extra ambitious you can bike all the way to Xizhou village. It's about 20 kilometers (12 miles) from Dali. Bring sunscreen and don't forget you have to bike all the way back, too!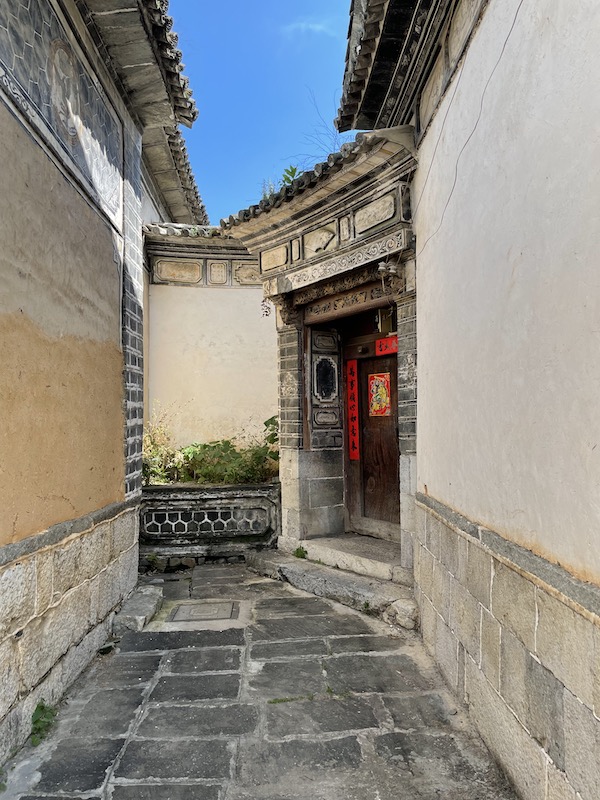 At first, the village feels like a miniature, underwhelming, version of Dali's old town, but after spending some time getting lost in a few winding alleyways, you'll stumble on some gorgeous centuries-old buildings. There are few crowds here, and the village feels lived in rather than a tourist hot spot. It's a welcome break from the relative hustle and bustle.
The bike ride to Xizhou and back is an all-day adventure, but worth it. Make sure to stop in one of the many little family-run restaurants along the way. The food in rural China is so much better than what you get in the city. The vegetables were likely picked in the restaurant's backyard, and the chicken was probably walking around that morning.
Cangshan Mountain
And what about those mountains that rise up behind Dali's old town and the Three Pagodas Temple? They aren't just for dramatic photo backgrounds. You can ride up near the peaks via three different cable cars. It's also possible to hike, but the trails were either closed or ridiculously steep.
We took the Xima Pool Cableway, which goes up to the highest point on the mountain a tourist can get to. We got some views of Dali and Erhai lake on the way but were soon enveloped by clouds.
The clouds, however, gave the mountain a real magical, otherworldly feel. A series of wooden walkways weave through lush alpine forests and meadows. The scenery is breathtaking.
And when I say the top of the mountain is breathtaking, I mean that literally. The altitude is around 3,900 meters, and we definitely felt its effects. I'm not an athlete or anything, but I'm in pretty decent shape. I got winded hiking up staircases that normally would have been no problem. Thankfully, oxygen canisters are plentiful and easy to buy.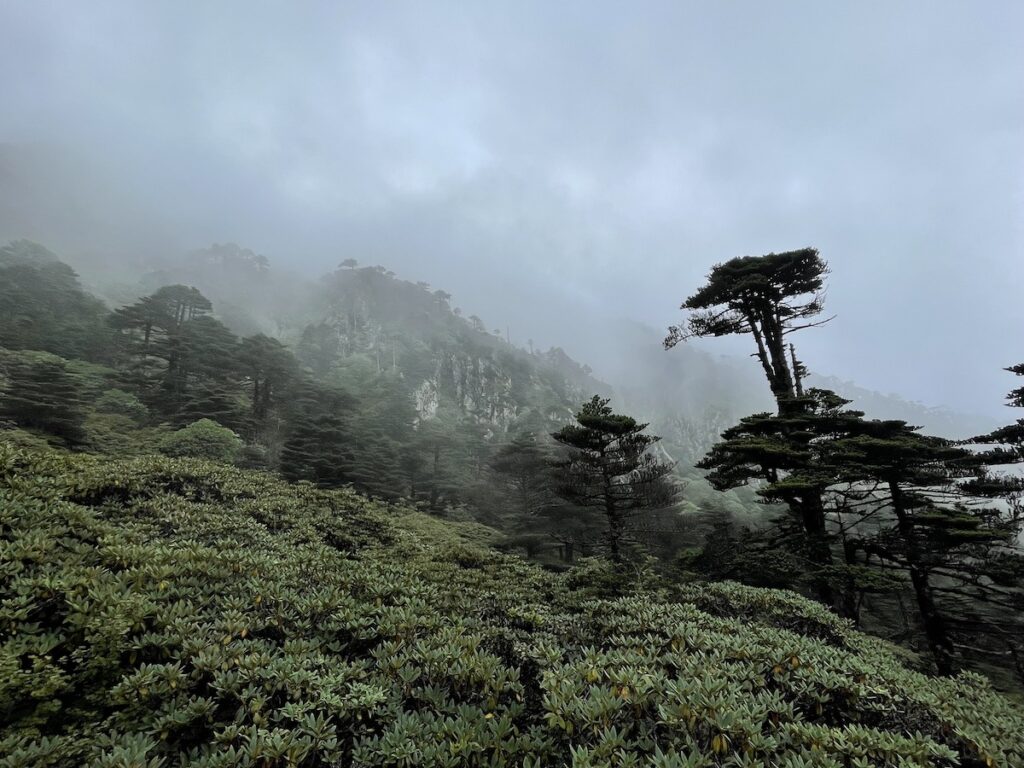 A word of warning: if you take a taxi to the cable car station, the driver may ask you if you have oxygen and a jacket. Tell him "yes", even if you don't. If you say "no", he'll take you to a shop outside of the park where they'll rent you a jacket and sell you oxygen that costs twice as much as it should. I'm guessing they give the drivers a healthy commission.
Wait and get these things in the park itself. Not only will you save money, but you'll also save yourself a good half hour wandering around trying to remember which shop you rented your jacket from so you can get your damn deposit back.
Dali is One of China's Top Destinations for a REason
Despite this little scam, Dali feels as safe as the rest of China. Yes, it's a super popular tourist town, but it's also popular for a reason. It's a fun, yet laid-back, sort of place where you can wander around in the shadow of the mountains and experience a feeling unlike anywhere else in China. The town of Dali may not have made any movies about slicing up eyeballs, but what it lacks in influential surrealist art, it more than makes up for in its unique culture and stunning beauty.