Kunming is the capital of China's mysterious, Southwestern Yunnan province. Kunming is known by such nicknames as "The City of Eternal Spring" or the "City of Flowers" highlighting the city's pleasant year-round temperatures. As if all there were to the city was an average high of 71 degrees Fahrenheit. Thankfully, there are far more reasons to visit Kunming than just the weather.
Kunming is Hip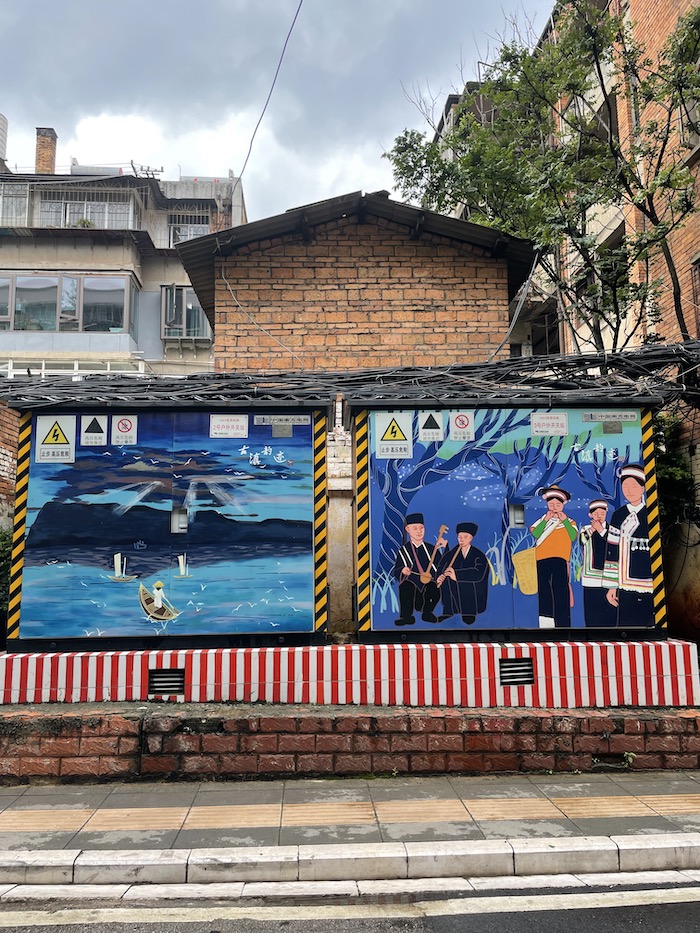 Maybe the guidebooks and the travel websites focus on the weather because Kunming lacks a lot of the heavy hitters you find in China's other cities. There are no glistening hyper-modern skyscrapers like in Shanghai, no ancient palaces or great walls like in Beijing. There definitely aren't any beaches.
This is probably why most non-Chinese travelers skip Kunming on their way to other parts of Yunnan province. And to be completely honest, Kunming does sort of pale in comparison to the magical wonders awaiting just a few hour's train ride north in Dali or Lijiang.
That being said, Kunming is still a surprisingly pleasant city and a really nice place to spend a few days. I was worried at first that we'd get bored there. I left feeling like I hadn't had the chance to see it all.
The first big shock about Kunming is just how hip it is. There are coffee shops on every corner, some that look like they belong in 2008 Williamsburg, Brooklyn rather than some far Southwest corner of China in 2022.
The city is colorful, too. Some shops have graffiti-style murals on their walls. They even painted colorful scenes on the electrical boxes. It's a nice city to just wander around.
And although the tourist sites in Kunming aren't going to make anyone's bucket list any time soon, there's still plenty to see.
Green Lake Park
The first thing to see in Kunming is Green Lake Park, aka Cuihu. As you might expect based on the name, Green Lake Park is centered around a large urban lake, although the water was normal-colored and not particularly green. Various stone paths wind around the lake, past groves of bamboo and lotuses. It's all very pleasant.
There are pavilions and bridges built in the traditional Chinese style where locals gather to sing, dance, or position themselves just right in front of the lotus fronds to get that perfect selfie.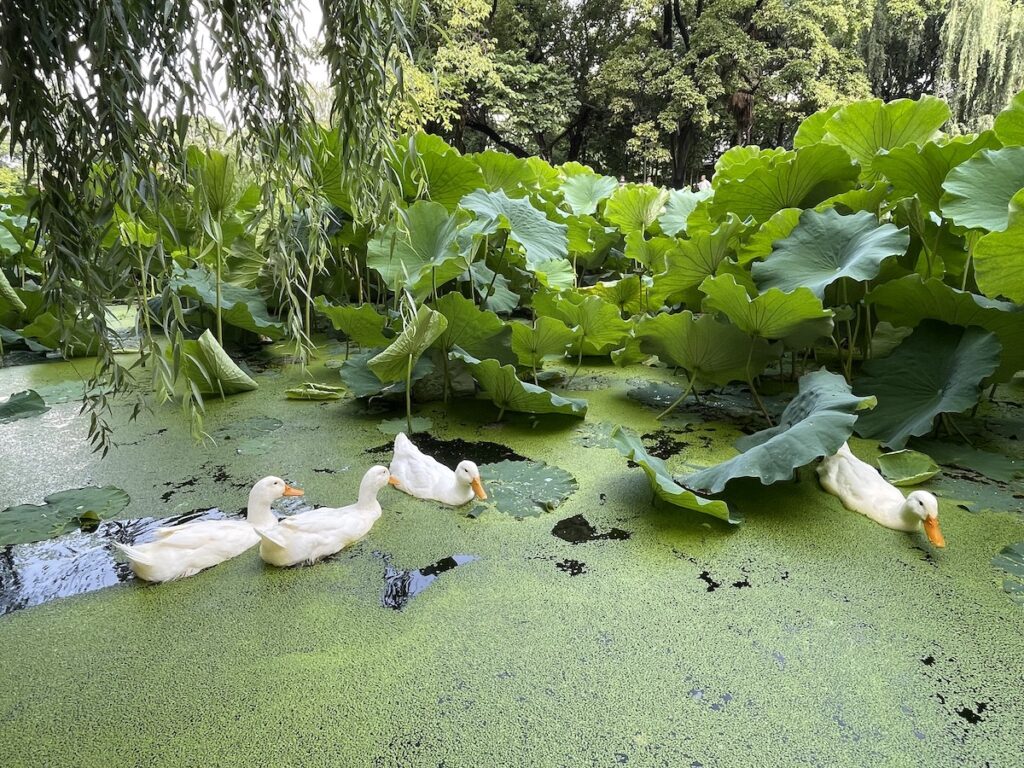 The guidebooks and travel websites all like to mention that Green Lake Park is a gathering place for seagulls in the winter. Apparently, hundreds of gulls swarm around the lake and it's kind of a tourist attraction. I personally think seagulls are the rats of the sky, and I would promptly turn and run away if I saw hundreds of them gathering in one place. I don't want them to poop on me.
Yuantong Temple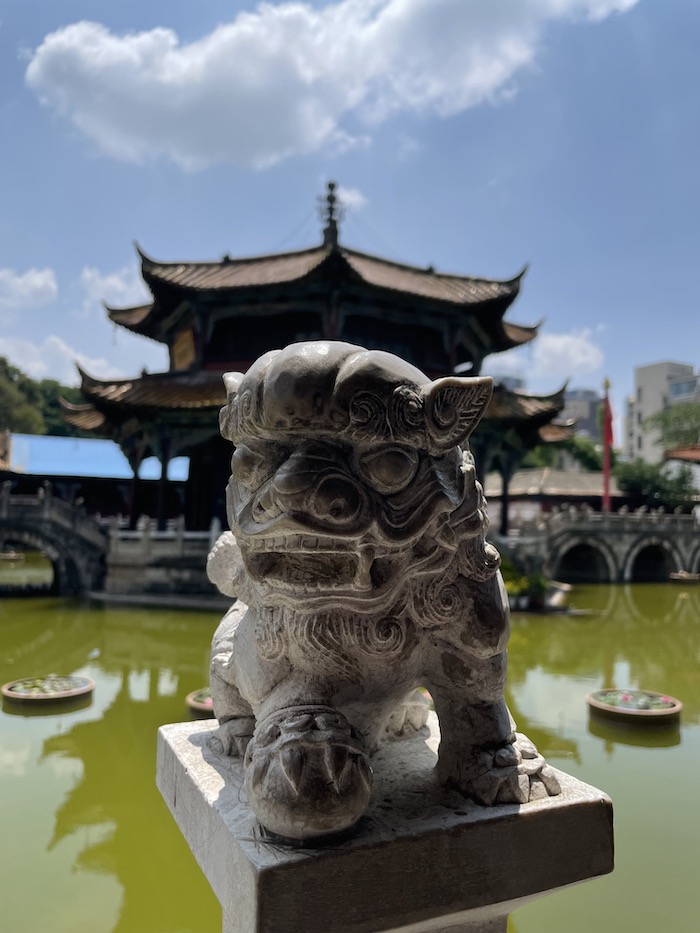 Just up the hill from Green Lake Park, you can find one of China's most fascinating temples. Yuantong Temple was first built over 1,000 years ago, during the Tang dynasty, although at the time Yunnan and Kunming were part of their own independent kingdom.
The temple is unique in that they built it at the bottom of a depression rather than on a hill. There's a small, square pond at the bottom with a hexagonal structure in the middle connected by arched bridges. The water here is actually green.
The back area of the temple ends suddenly at a large cliff that climbs up to the city zoo. There's also a building that looks like they plucked it right out of Thailand.
In the end, Yuantong Temple was one of the most unique temple structures I've seen in China. It's definitely worth a visit.
Kunming Old Town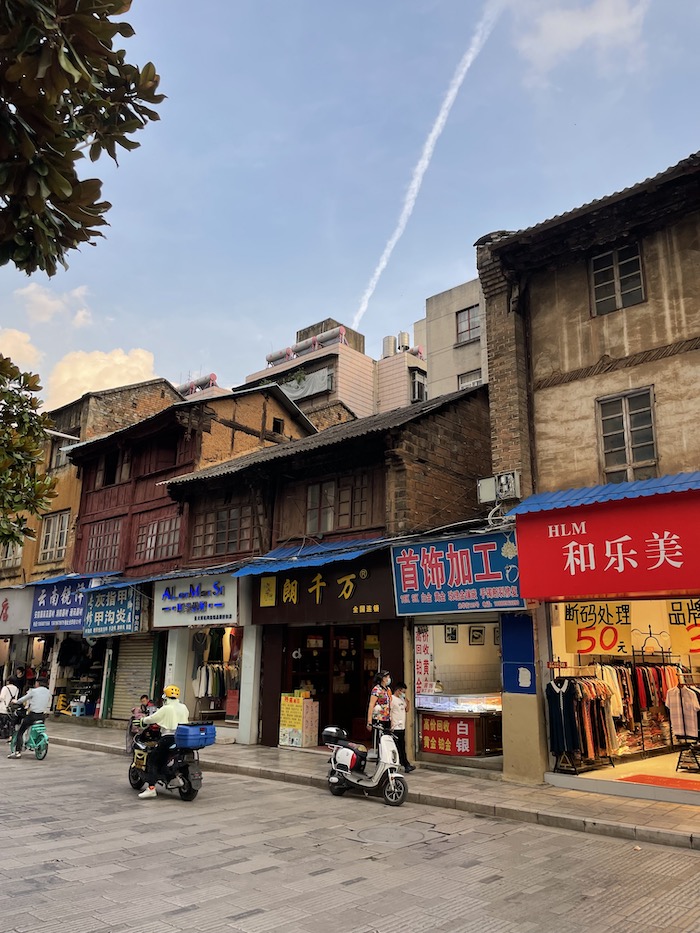 Walk about half an hour south of Green Lake Park and you'll come to Kunming's old town. Like most other Chinese old towns, it has a few pedestrian streets lined with old buildings converted into touristy shops. Kunming's old town pales in comparison with nearby Lijiang and Dali, but, like most other Chinese old towns, it still maintains enough charm to make it worth a visit.
The Flower and Bird market is in a huge building at the far southern end of Kunming's old town. We didn't go there because we weren't looking to buy any flowers or birds, but it's supposed to be a cool place to wander around for a bit.
We did eat at a lovely restaurant in a two-hundred-year-old courtyard nearby. I'm sorry I forgot the name, but it was right next door to the Flower and Bird market. They did a wonderful smattering of traditional Yunnan dishes and it's always cool to eat in a centuries-old house.
The old town also seems to be the place to go for nightlife in downtown Kunming. Some of those old buildings are stuffed with hip bars and clubs. We stopped by a little place and the waiter had long pink hair and black fingernails. They supposedly do all vinyl listening parties some nights, but we only heard generic pop music while we were there.
Western Hills
When the city gets too hip for you, you can always head for the hills. Called Xishan in Chinese, the Western Hills Scenic Area might be the closest thing to a heavy-hitting tourist attraction in Kunming.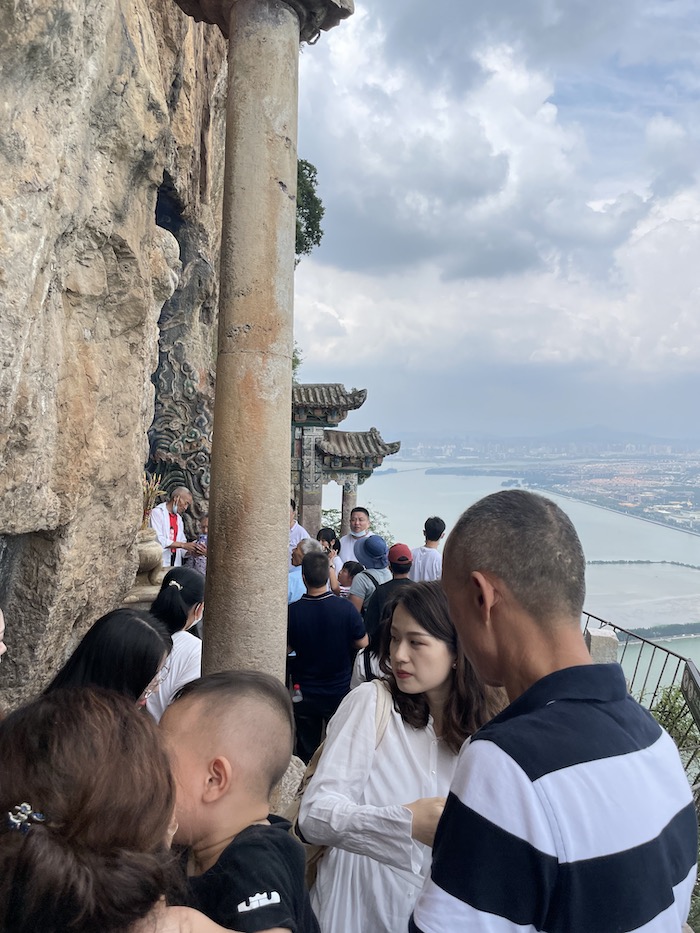 You can get to the hills by metro or by a relatively cheap taxi. You then take a cable car up the mountain, where there are a few paved trails to choose from. Be warned, the signs can be a little confusing, and the area is crowded with tour groups. It's still pretty cool.
Some 300 years ago, some crazy Taoist priest got the idea to carve a trail and some shrines into the side of one of the mountain cliffs overlooking Dianchi lake. Now tourists walk down hundreds of steep, winding steps, passing various shrines built into the cliffside. Eventually, the trail leads to the "Dragon Gate" that's said to be good luck. The trails can be a little claustrophobically packed at times, but it's still a cool way to hike down the mountain.
Remember the confusing signage I mentioned? We ended up going back up the mountain instead of down, wandering up the twists and turns through the "mini-stone forest" to the mountain's peak. We rested there a while, admiring the dramatic views until the thunder started.
After we scrambled back down to the cable car station, we found they'd shut down the cable cars. At this point, we'd been walking around this damn mountain for hours and were exhausted. But there was nothing else to do. We had to go back through the Dragon Gate and make our way down the mountain again on foot.
I guess the Dragon Gate really was lucky since it really didn't start downpouring until we were almost at the bottom.
Crossing the Bridge Noodles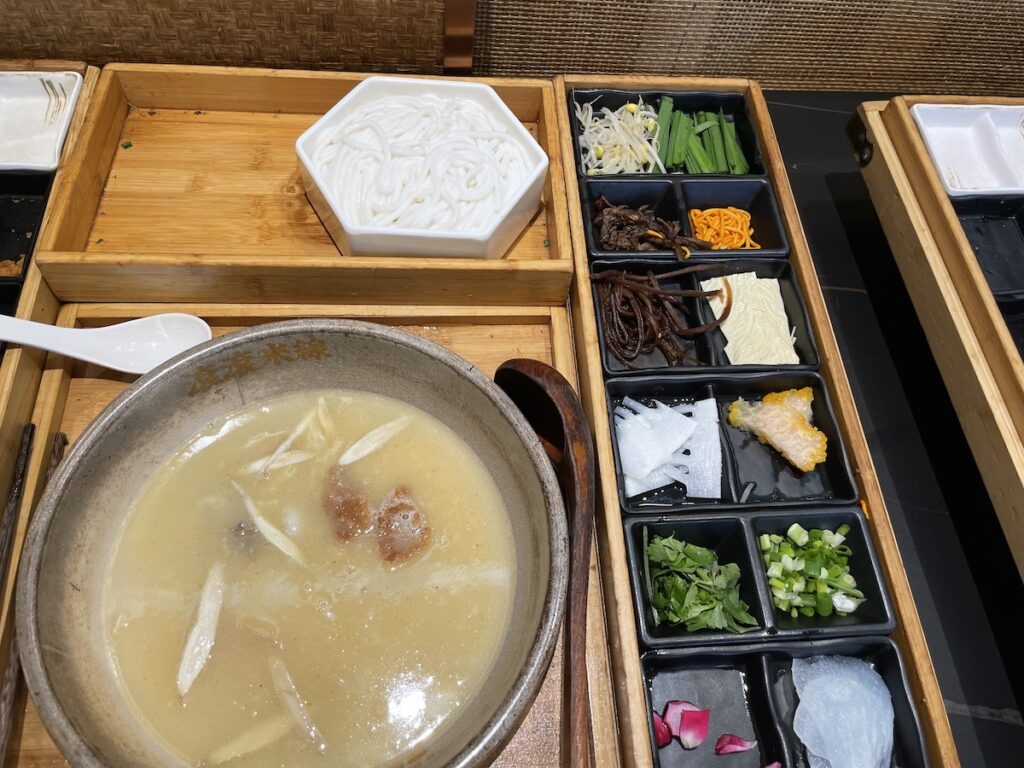 We came back to the city from the Western Mountains soaked and kind of chilly. Thankfully, Kunming has the perfect dish for this situation: Crossing the Bridge Noodles
The restaurant gave us a big bowl of boiling, peppery rich broth as well as wooden trays filled with an assortment of ingredients: chicken, shrimp, vegetables, and so on. And a big serving of noodles of course. You then dump everything into the broth and let it cook at your table.
According to legend, the dish comes from some time back in the day when some guy was studying for his imperial examination on an island somewhere. His wife would cross the bridge to bring him his lunch every day, but she found that the noodles were too soggy by the time she got to the end of the island.
So, she came up with the idea of carrying the broth and the ingredients separately so that her husband could have some nice, non-soggy, noodles while he studied. Seems like she was the smart one in the family if you ask me.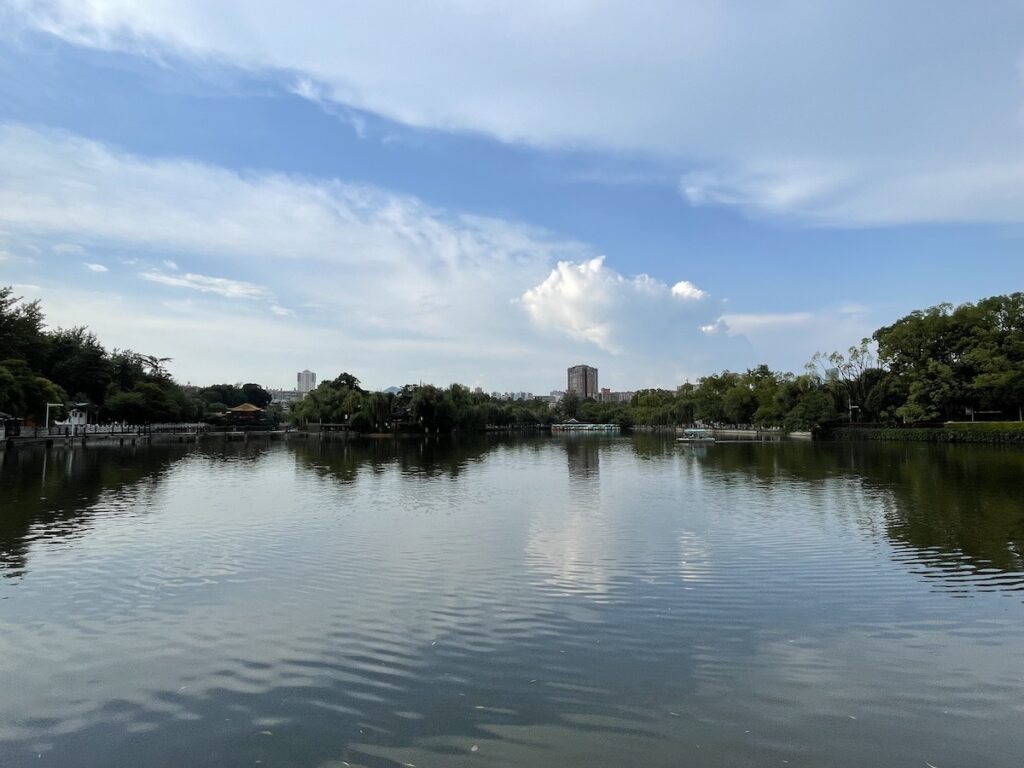 Either way, Crossing the Bridge Noodles are the perfect dish for Kunming's cool climate. Especially after climbing down the side of a mountain cliff in the rain.
Kunming has other treasures aside from the noodles, the mountains, the old town, the temple, and the park. We didn't see them all, because we were trying to cram in a lot of places in a two-week trip. However, if you have more time, I've heard good things about the Stone Forest, Bamboo Temple, and the Nationalities Museum.
The city is most definitely worth a stop during a visit to Yunnan. There's a lot more to Kunming than the weather.