Where can you find nature in a city of 20 million people? At first glance, Beijing seems like the last place you would look for natural beauty. Afterall, this sprawling megacity is famous for being crowded and polluted, especially after the "airpocalypse" of 2014. But, this city is full of surprises. Beijing has some gorgeous nature, especially in Fragrant Hills Park.
History of the Fragrant Hills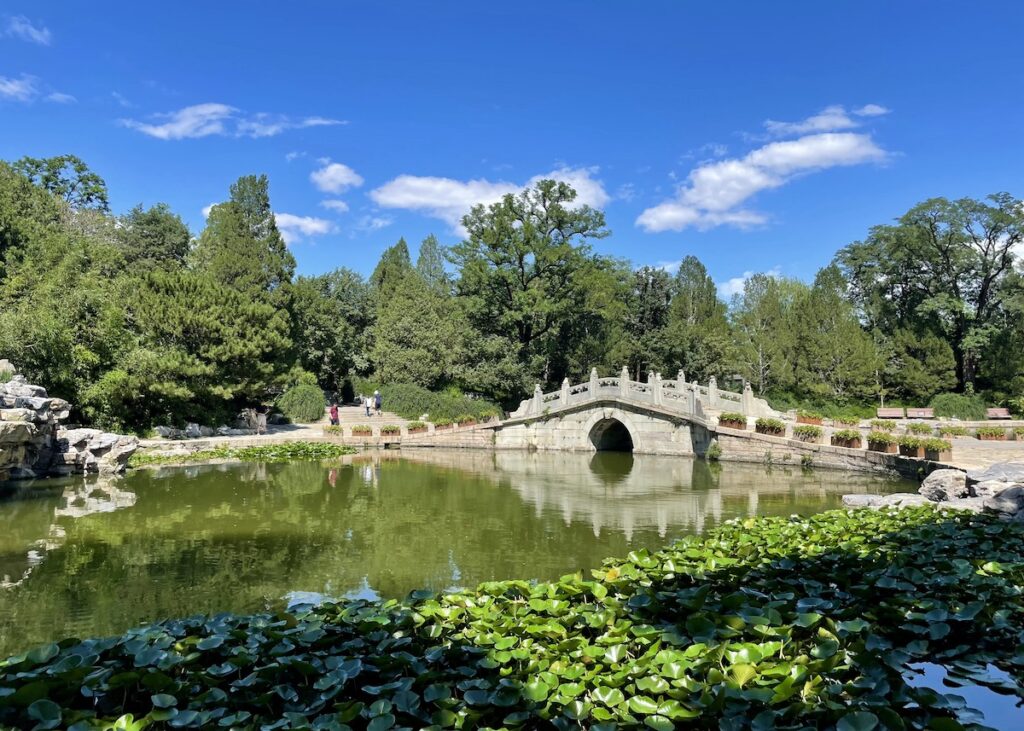 Fragrant Hills is not a euphemism for tall farts. It is, in fact, a gorgeous city park located about 17 miles northwest of downtown Beijing. I'm not sure how it got the name.
The Fragrant Hills Park, (or 香山) like many Chinese public parks, started as an imperial garden. It was first built during the Jin Dynasty, between 1115 and 1234. The gardens were later expanded by the Yuan and Ming Dynasties, with the Qing Dynasty finally adding most of the finishing touches you see today.
The Park, like the Summer Palace, was damaged during the Opium Wars of the mid 19th century. The Communists began the restoration of the park when they took power in 1949. Chairman Mao even used to live in one of the villas.
Visiting Fragrant Hills from Beijing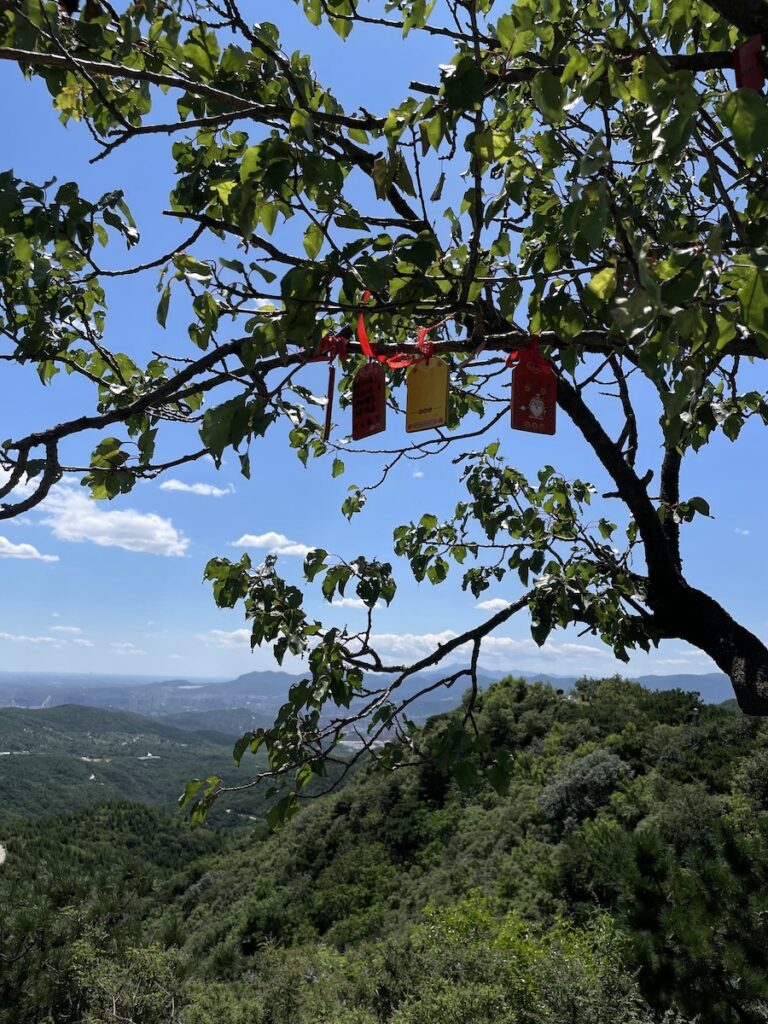 You can visit Fragrant Hills Park from Beijing via public transit, although it isn't quite as easy as some of the city's other sites. Take line 4 to Beigongmen Station (same as the Summer Palace) and transfer to bus 563 or 331. You can also take a taxi from downtown for about 100 RMB. The trip takes around 40 minutes depending on traffic. We took a taxi, because of convenience.
Here are links to some maps:
Apple Maps
Google Maps
Baidu Maps
The Park itself isn't too expensive, either. Only 10 RMB during the high season. That's less than two dollars. You can also buy a cable car ticket up the mountain for another 60 RMB, which is totally worth it. You'll need to pay another 60 to get back down again, though, unless you like steep hikes. It's still cheaper and less steep than the Great Wall.
There's a whole street of small restaurants and souvenir stands outside the main entrance. A hearty bowl of noodles is just the thing for wandering around an ancient imperial garden. You can also buy food inside the park, but be warned, it's mostly just little snacks.
Inside the Park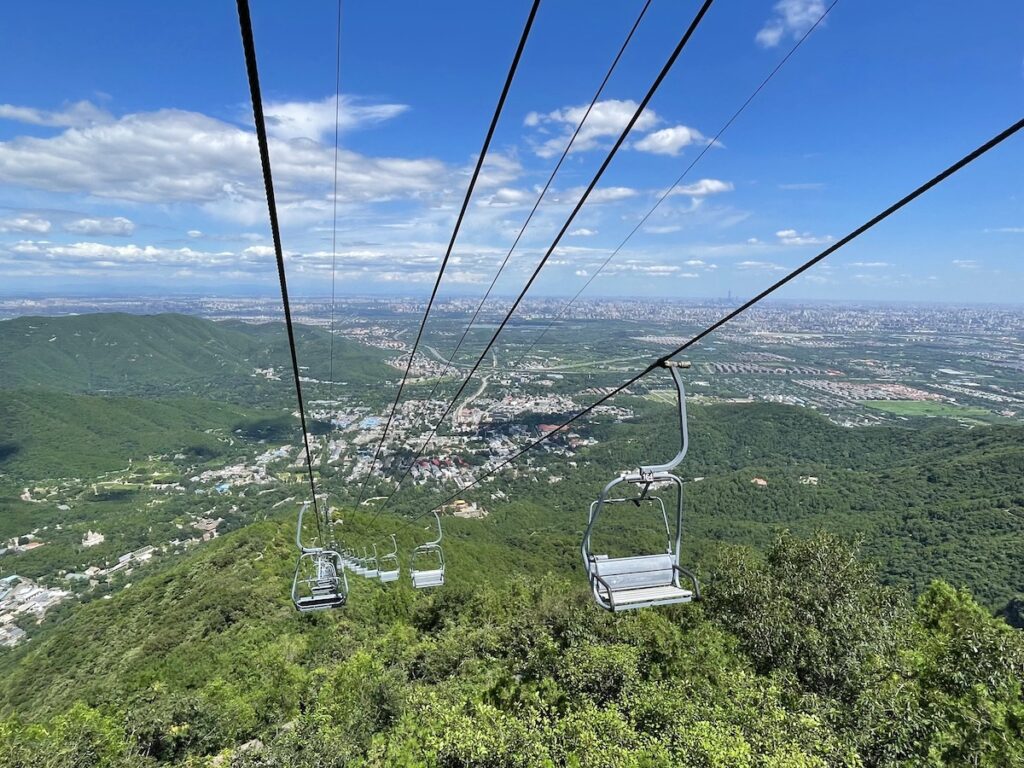 Once you enter the Fragrant Hills Park itself, you'll find all sorts of trails winding up and around the hills. Leafy trees provide some welcome shade to contrast the scorching hot concrete streets of downtown Beijing. There are round green ponds, small temples, and other structures hidden away among the hills. Like most Chinese parks, there's a lot to see, and you could easily spend a whole day there.
The one thing not to miss is the top of Xianglu peak. We took the cable car (which was really more of a chair lift) up, but you can also hike if you don't mind trudging up steep hillsides. The chair lift offers some pretty astounding views of the surrounding area, however, that you'll miss hiking. Just be sure not to drop your phone.
The top of the hill is absolutely outstanding. On a clear day, you can see all the way to downtown Beijing's towering skyscrapers. It's one thing to read that there are 20 million people living in the city. It's another thing to see all those 20 million people's homes and businesses stretched out before you, building upon building all the way to the horizon.
You can't help to feel insignificant. But, the city is also kind of beautiful in its own way. Especially when you see it cradled by the low green jagged mountains that surround it.
Okay, so the nature in Fragrant Hills park isn't going to be wild and untamed. It's all very cultivated. You won't be seeing any rare Siberian tigers or wild pandas. However, you will get a lovely place to wander among the trees for a few hours and gain a new perspective on one of the world's great megacities.