Gucun Park in Shanghai is also known as "dinosaur park." Walk through dense forests of leafy green plants. There's a rustling in the leaves. Something is lurking in the forests just beyond the shadows. Water ripples in your cup as heavy footsteps come closer. Then the leaves part. It's a giant, animatronic tyrannosaurus! Also, a pterodactyl is playing the guitar. And King Kong is there too. And Iron Man.
Welcome to Gucun Park.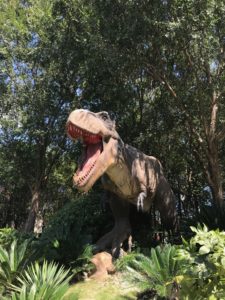 We went to Gucun Park on a whim, having read about it but not really knowing what to expect.
It's located a bit north of downtown Shanghai on metro line 7. It was quiet when we went there on a bright summer day, although I imagine it gets pretty busy on weekends. The only other people we saw were groups of school children who were very friendly. They all said "hello" and giggled when we replied.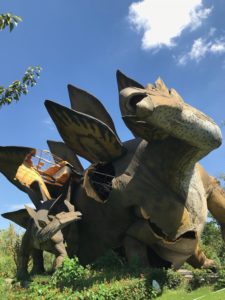 The animatronic dinosaurs are impressive, in a rundown falling apart sort of way. There was a gigantic stegosaurus that had been ripped open, exposing the metal frame and foam padding inside. It made me wonder, was there some sort of even animatronic larger T-rex roaming around?
Life finds a way in Gucun Park, Shanghai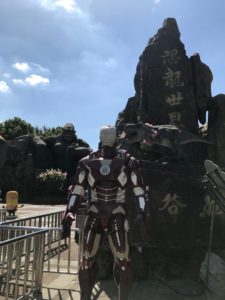 Aside from the dinosaurs, there's a bewildering amount of other characters. You enter past a dinosaur rock band, that looks like they were bought from a children's pizza franchise. A life-size Iron Man guards the entrance gate. King Kong towers over a group of rocks. Just to the right of the triceratops, a 3/4ths scale Spiderman climbs a lattice of flowers.
There's a small T-rex in a cage if you want to live out your dinosaur hunter fantasies. There's even a place where the kids can "ride" the dinosaurs, although it was closed when we went. (And why not make it adult size? Come on!) A few informational signs give background on the various dinosaurs, but there's really no reason to pretend Gucun Park is anything close to educational.
Did I mention the lake with giant rubber duckies?
Overall, Gucun Park is one of Shanghai's weirdest attractions, but also weirdly fascinating. It's a kitschy mashup of paleontology and pop culture. And once you're done with the dinos, the rest of the park is a rather pleasant place to spend the afternoon wandering.
It's a good place to go to be reminded how wierd and wonderful this place can be.