Do you want to travel back in time? Be careful. Anything you do in the past might alter the present, with grave consequences. Better yet, skip the dangers of causality altogether and visit the ancient city of Lijiang, China.
Lijiang's old town is almost like a trip back in time. If the past had a lot of tourists. And nightclubs. And shops selling temporary tattoos. Okay, so maybe Lijiang isn't as 'authentic' as it could be. But it's still a lot of fun.
About Lijiang
Lijiang is tucked away up in the Northwest corner of China's Yunnan province, nestled in the mountains near the border with Sichuan. The city has an airport that serves most of China. Easy high-speed trains arrive every day from Kunming, and even easier trains go back and forth between Lijiang and Dali. You can also take a bus up to Shangri-La if you're so inclined.
Lijiang is the hometown of the Naxi people, one of China's 55 ethnic minorities. It's over 1000 years old. The town, like other cities in this part of Yunnan, was a major stopping point on the ancient tea horse road. Kublai Khan conquered the city way back in 1253. The residents supported the Ming conquest of Yunnan a few hundred years later. In exchange for their help, the Ming granted the ruling Naxi family the title of "Mu." The Mu family ruled over Lijiang for centuries, until the Qing dynasty took over in 1723.
The Naxi People
The Naxi people live mostly around Lijiang as well as parts of Tibet and Sichuan Province. Although lots of Han Chinese have moved into Lijiang, the city has still kept a lot of its unique culture and flavor.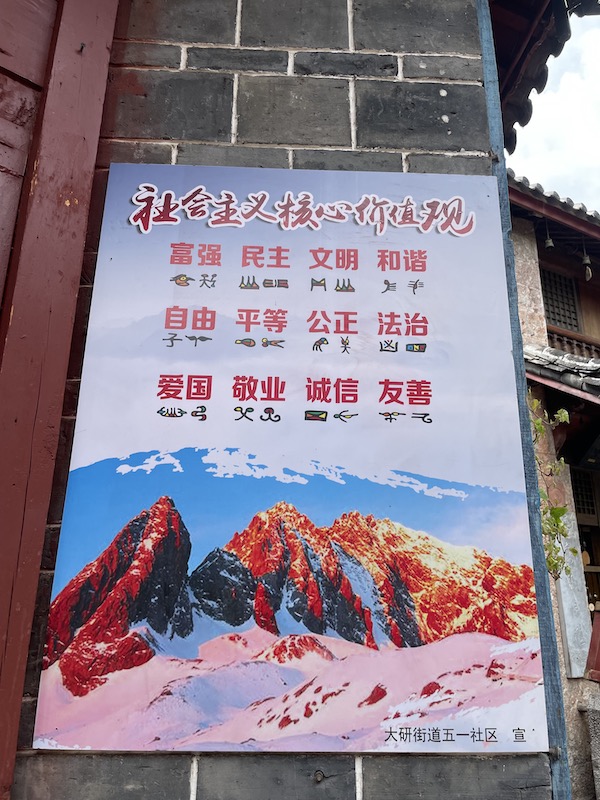 One of the most interesting examples of Naxi culture is the language. The Naxi people have their own unique language, obviously, but also their own writing. They use pictographs rather than letters or Chinese characters. These Naxi symbols are one of the few pictographic writing systems still in use today. This isn't just some ancient, lost, writing. You can still find Naxi pictographs on street signs and posters throughout Lijiang.
The Naxi are also traditionally matrilineal. The Mosuo people, a related group that lives a hundred or so kilometers from Lijiang around Lugu Lake, are famous for their unique "walking marriages." The man walks to the woman's house, and she decides whether or not she wants to do the nasty with him. If she's into it, he spends the night but has to walk home in the morning. Children rarely know who their fathers are, and that role is usually played by their uncles.
Of course, the Mosuo and Naxi people aren't immune to the pressures of modern society, and these traditions are fading away. However, even today you will find that women make up the majority of shopkeepers and restauranteurs in Lijiang.
What to Do in Lijiang?
Lijiang is packed with things to do. The city sits under the shadow of the monumental Jade Dragon Snow Mountain. This mountain was so nice, I had to give it its own blog post.
If you're feeling adventurous, Lijiang is also an excellent base for exploring Tiger Leaping Gorge. Unfortunately, July and August are the rainy season and summer storms can make hiking through the gorge a little too dangerous. When did we visit Lijiang? August, of course.
But, even though we missed Tiger Leaping Gorge, Lijiang was still full of cool stuff to see.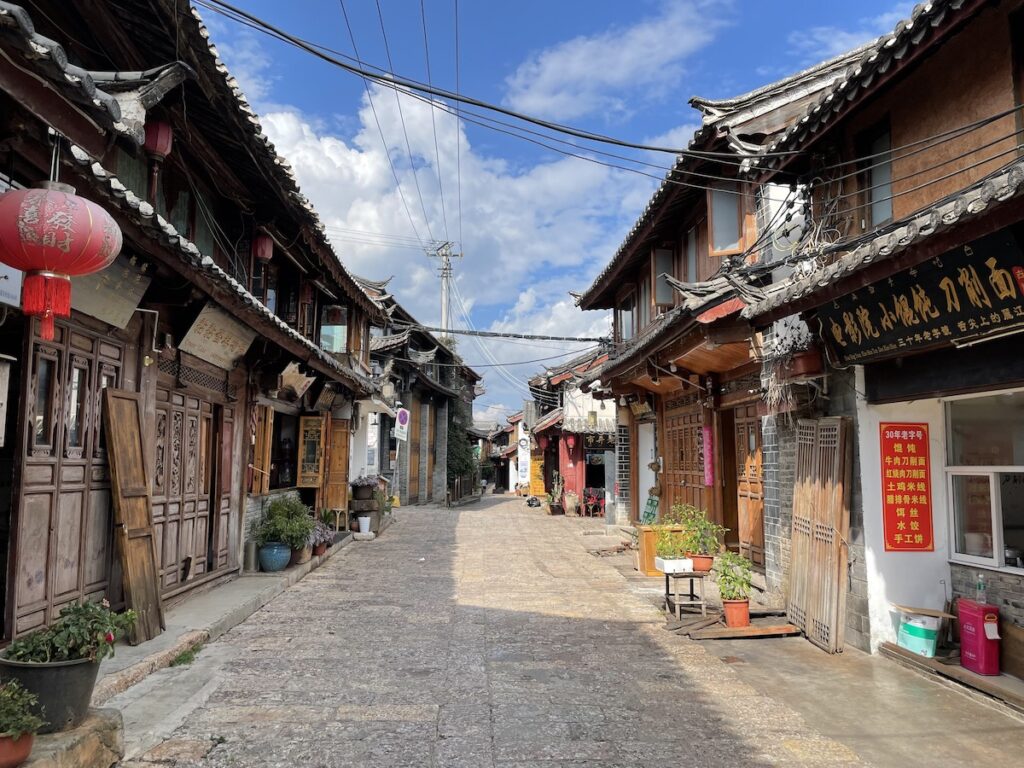 Lijiang Old Town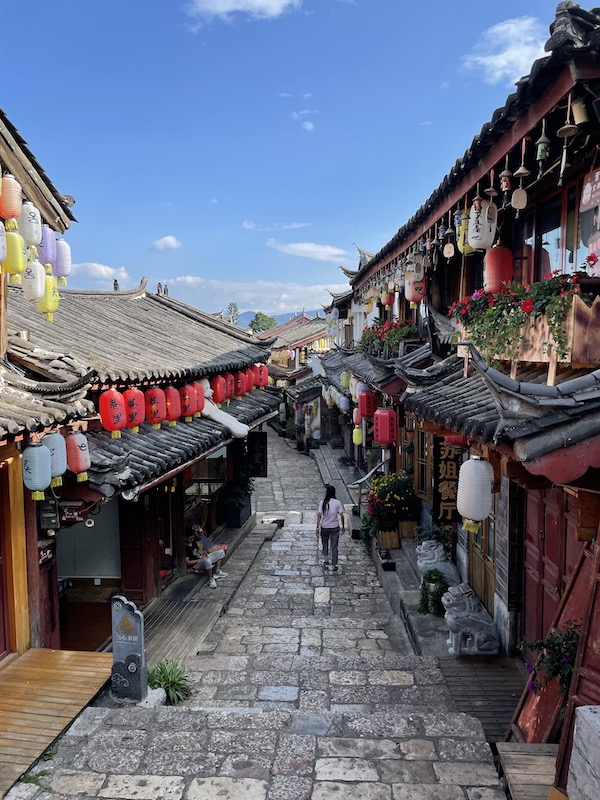 The best attraction in Lijiang is the old town, of course. This UNESCO World Heritage Site is a winding maze of charming cobblestone streets, cute flowing canals, and delightful stone buildings. Like every other old town in China, most of the buildings have been converted into restaurants, hotels, and souvenir shops. There's a street full of bars and nightclubs with blaring music alongside a windy canal. There are also more little shops selling pomegranate juice than I've ever seen in my life. The pomegranate juice here is excellent.
And, like every other tourist spot in China, the streets of Lijiang are crowded asses to elbows with Chinese tourists. Some people hate this sort of thing, but if you let yourself relax and get swept along with the crowd, it can make for a fun, almost carnival-like atmosphere.
Also, unlike some other old towns (I'm looking at you, Dali), there are no cars allowed in the center of Lijiang.
If the crowds and tourist shops are too much for you, you can visit the nearby villages of Baisha and Shuhe. Both of these are absolutely lovely, far less crowded, and more 'authentic' feeling than Lijiang.
Mu's Palace and the Black Dragon Pool and Beyond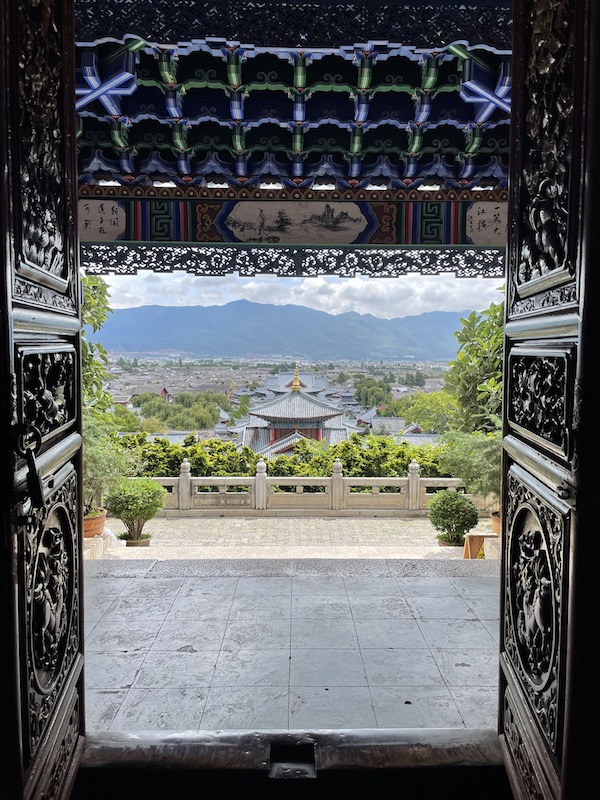 Remember when I talked about the Mu family that ruled Lijiang back in the day? If you want, you can go visit their palace. The Mu family palace pales in comparison to, say, the Forbidden City in Beijing, but it's still a nice place to wander around for a few hours and soak up some traditional architecture. There's a hill in the back where you can get a great view of the old town.
Just a short walk to the north of Lijiang old town, there's the Black Dragon Pool Park, also known as Jade Spring Park. The Chinese love their poetic names. You'll have to pay to get in, but it's only 80 RMB, and is worth it.
The park has a few nice pavilions and walking trails that circle around a small lake. The park also offers an incredibly iconic view of Jade Dragon Snow Mountain towering behind a Chinese bridge and pavilion. Okay, well, maybe this offer is weather dependent. Clouds hid the mountain when we were there. But it was still a very nice park.
If you get sick of the old town, you can head on the road towards Jade Dragon Snow Mountain a short way. You'll find a wonderful little public square with an impressive statue of Chairman Mao. Other than Mao, there isn't much in the modern city aside from a few cheap restaurants and local people going about their lives.
But I Heard it was Terrible…
Not everyone is as into Lijiang as I was. Here are some reviews from TripAdvisor: "just another chinese commercial mall", "Chinese Disneyland", "shamelessly unauthentic crass 'old town' with lots of similar shops", "endless, joyless hordes of Chinese tourists" and my favorite, "sometimes, I wake up terrified, bathing in sweat, thinking im back in Old town Liniang…. I imagne it is what hell must be like."
These seem a little extreme to me. Oftentimes, when you are traveling in China, you will find many Chinese tourists. There are a lot of Chinese people in China, and they like to travel. Deal with it.
As for the commercialism and similar shops of the old town, well, yeah. It's unfortunate that popular tourist spots tend to get commercialized. However, it isn't just a Lijiang thing or even just a Chinese thing. This happens all over the world. It's unfortunate, but we're probably going to have to deal with it until after the revolution.
But until we can smash capitalism, just relax and let yourself enjoy the touristy trip back in time that is Lijiang.